Hello readers! Welcome to another edition of 'Profitable Platforms!' You can see previous posts in this category at this link. Let's get started!
Although the internet income space is most known for eCommerce, online freelancing has become vital in the industry. And arguably  the most notable freelancing marketplace is Fiverr, a place where you can post a job you can do for $5 (hence the name). This post will act as a kind of introductory guide to Fiverr.
To the uninitiated, Fiverr might seem kinda weird, or even novel. I found it hard to believe at first, but that was because I didn't even know what a freelancer was in real life, let alone online.  But Fiverr is a legit profitable platform. I hope this helps you out!
Fiverr in Short
---
Get it? Five is a small number! That's a title pun!
Alright, it's not that funny. But I still think it's clever. Anyway, Fiverr is a freelance marketplace. Basically, you log on, describe yourself and what skills you have, and finally price a listing of your service. That was pretty short!
Don't worry, I'll go into more detail below.
How Fiverr Works
---
We all have skills, hobbies, and talents. Many of us rely on these for a living, others use them for fun. Fiverr helps you monetize a skill you have quickly and efficiently.
When you sign up to Fiverr, you are asked to divulge your skill set, education level, and number of languages learned. You don't have to have a degree or be bilingual to list a job though. It just improves your profile.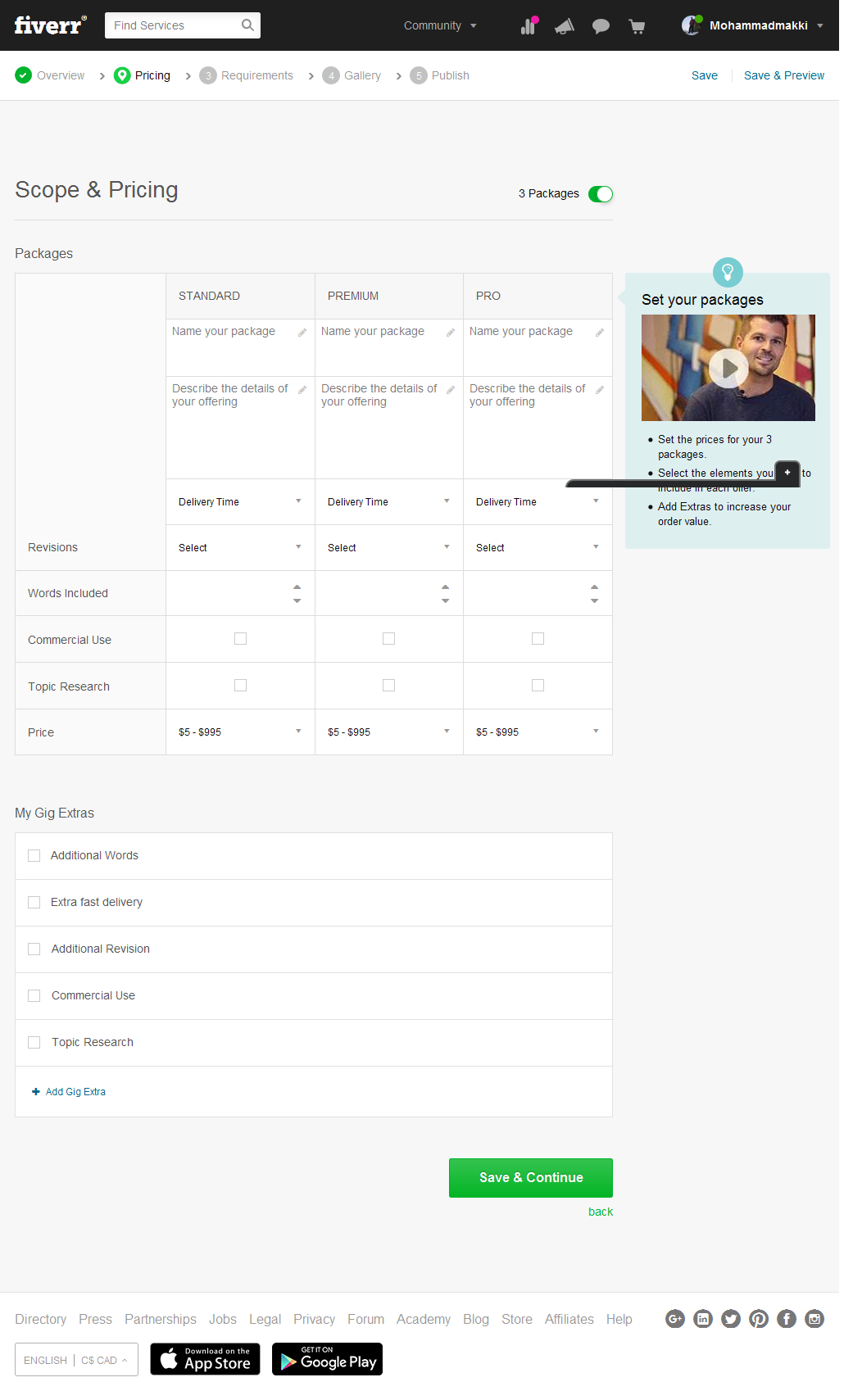 Then, you have to describe the gig (it's what Fiverr calls jobs) very accurately. You don't want to risk customer satisfaction!
Next comes the pricing stage, which is where you'll make your money! You can set pricing for one standard package, which is just the job you'll be doing, or make it three-tiered: standard, premium  and pro.
You might think all gigs cost $5, but there's exchange rates (in Canada it should be called Sixthirtyninerr) and you have the option to add 'gig extras,' which are perks like faster delivery or commercial rights. These extras add onto the price, but only if the customer wants to.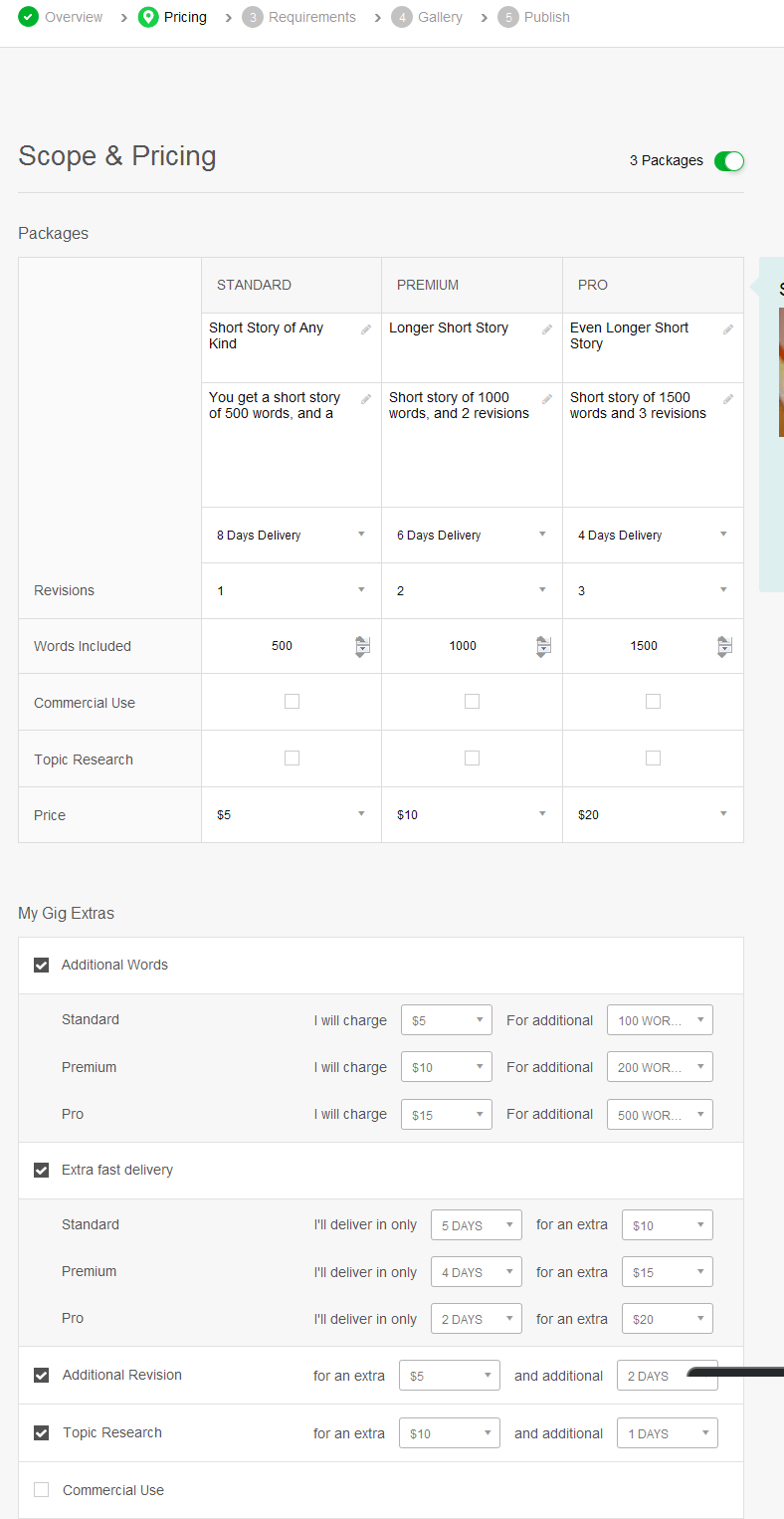 Finally you post your gig and wait for an order! Fiverr is a great way to make money on the side. The money is sent immediately after finishing a job. You don't have to worry about chasing customers.
While Fiverr does sound good to anyone wanting an internet income, it has a potentially more lucrative use to those with an online presence, like a website or blog.
The Other Side! Hiring on Fiver
---
Despite it's quick money earning potential, Fiverr can be very useful if you want something done, especially if that something relates to your online business.
Let me give you a for instance. You could hire a blog writer to write a few posts for a few dollars, or have entire articles ghostwritten. I personally don't care for ghostwriting, but think of the time it could save!
The uses extend past writing. Fiverr is known as a reliable place to get logos for cheap. This is undoubtedly an important past of a brand, so you can see why considering Fiverr might have it's benefits.
Any form of media, whether it be animation, videos, or eBook cover designs, are bound to be on Fiverr.
All these gigs are no doubt beneficial to the creative aspect of your site, and other gigs can also help out on the technical side as well. I've never needed technical help with my website (Wealthy Affiliate takes care of that for me), but it's there if you need it.
Buyer is Cautious!! Low Quality Results?
---
Before you consider using  Fiverr, there are caveats you need to have in mind.
First, as a freelancer you have to be ready for potentially low payouts at times. You're only charging $5 in the beginning, and customers might not choose your extra features. You gotta be patient.
Now, for buyers, there is the possibility of low quality purchases. These will be either poorly written or hastily made. In other words, trash. The best defense is to look at the gig reviews.
You should know that IP theft is rampant around Fiverr. That cool $5 logo might be stolen. Do your research!
One thing to remember is that some Fiverr freelancers are foreign, so they might not have good English. If your job requires good English (a writing job, for example), be cautious about who you hire.
In the worst case scenario, you're stuck with this trash. But Fiverr's customer support is dependable enough to refund you when you've been wronged.
If you wanna learn more about the shady side of Fiverr, you can check out this in-depth article from The Logo Factory.
The best thing I can say is, 'caveat emptor.' For those who don't know, that's Latin for 'let the buyer beware.'
Why You Should Use Fiverr
---
I'm not gonna repeat my words too much: if you wanna make money on the side of whatever you're currently doing, such as your blog or 9-to-5,  Fiverr's a good place to do it. It's at least worth a try.
Another benefit I didn't mention above was the appeal of working when you want. On Fiverr, no boss, um, bosses you around. You'll be looking after number one! That's what every internet entrepreneur hopes to be doing.
I've already listed some things you can buy on Fiverr, such as articles, logos, and graphic designs. The advantage you get here is the time saved. Time is your most precious asset, and whatever time you save buying a gig is time you can divert to more pressing tasks.
Remember, time is money!
The $5 Road to Riches! Freelancing Fortune!!!
---
That headline is more style than substance, I admit. But it's kinda sorta close to what some people have accomplished on Fiverr.
While you're unlikely to make actual riches, it's still a good idea to see what you can earn.
Fiverr is a great opportunity to get paid to show off your skills, or get a job done quick. I hope you enjoy using it.  Just remember, you get what you pay for!
If you're interested in Fiverr, check it out right here.
If you'd rather not do freelance work, I recommend checking out my preferred method of earning money online.
What are your thoughts on Fiverr? Have you tried it before? Leave a comment below! I'd love to hear your feedback!
Your pal,
-Makki
Save
The following two tabs change content below.