Hello readers! It's Makki again with another hot topic. This time we're gonna be looking at an introduction to affiliate marketing, which is my area of expertise. To be able to post about affiliate marketing in the future, I'm gonna introduce it here.
I currently write about 'profitable platforms,' where I detail online websites that can make you money. Affiliate marketing is in a different league than moneymakers like Amazon or eBay. I'll show you why in a bit.
Affiliate marketing is defined as:
a type of performance-based marketing in which a business rewards one or more affiliates for each visitor or customer brought by the affiliate's own marketing efforts.
OK, that Wikipedia (yes, it's a legit source) quote is pretty wordy. It does the job though.
In simpler terms, affiliate marketing is when you (the affiliate) promotes a product, or anything really, and then get paid a 'commission.' Commissions are payments sent to your account, after a sale. These commissions are what affiliate marketers live for!
How it Works
---
When a marketer wants to advertise with a seller, they register with the sellers' affiliate program, which gives them a link with a tracking ID. That's how sellers know who made the sale. The link is posted on a forum, or a website, or social media to get it out there.
In it's simplest form, affiliate marketing is when a reader clicks on an affiliate link and buys a product. Now, you may be thinking you've got it made with that summary. Sadly, the truth is disheartening.
Although it's true that sales are guaranteed money in the bank, conversion rates (or the rate that a visitor actually buys something) are not always 100%.
It's not anywhere near 50% either.
Nope, 25% is really stretching it.
The average conversion is around 1%!! Hahaha!
OK, I was kidding with the 1%. The truth is, there isn't an actual average rate. There's too many industries, programs and other variables. But if you want a number to lean towards, it's around 10%, even if not everyone makes it that high.
But enough about conversion. Affiliates usually make their sales by using their own website, or email broadcasts (to email addresses collected from users on their site). This is the reason why affiliate marketing is rarely mentioned in the mainstream. It takes a a lot of work to build a website and a following (more on that here)!
 Why It Works
---
You gotta admit, this whole deal sounds pretty one-sided. The affiliate works hard for sure, but is he working as hard as the seller?
Of course not! No, that's not a knock against affiliates. Sellers have to go through product manufacture, launching it, legal issues, and marketing it. It's complex stuff. I've been involved in product launches before, and they're quite the quantum conundrum!
Let's focus on the marketing side for now. When a company hires a marketing company to advertise, they're paying no matter how bad the sales are. It's a fact of life. But with affiliate marketing, a payment is only made when a product sells! There's no (financial) risk involved! This is why affiliate links are usually provided for free.
(Incidentally, if you ever see that you have to pay to be an affiliate, back away slowly, because that's a sure sign of a scam.)
Too Good to be True?!! Reality Hits!
---
Are you excited? I hope so. But I'm gonna try and dissuade you with some discouraging facts. If you don't mind these, you have the right mindset and perseverance. The reason being that I thought it was a rosy industry when I first started, but then reality set in, and it hurt. So you have to take the good with the bad, and know what you're getting into.
-The first thing you should know is affiliate marketing takes time, and spit and grit, and some other metaphor. You could have your first sale in your first week, or your first few days (although that's nearly unheard of) but then you could have that first sale after a few months, or more! Patience is key.
-Another thing you should know is that you need a website. No joke. Websites are like a 'home base' for affiliate marketers. Well, I should say everyone online. This is where you build a readership that will click on your links that you post around your site. Without a site, you're pretty limited.
I know there's quite a lot of people who've never had websites before, and I understand that. If you go over to 'Build a Website', I'll show you a free, fast and easy way to set one up.
-Anyway, one more thing you should know is that as a beginner, you are understandably optimistic. That's a good sign. But at the same time, some of us are desperate to get a lot of money fast. And unfortunately, many established affiliate marketers use desperation to scam and cheat people of their money.
I know this because I was cheated before, and my naivety nearly cost me dearly. You can read more about that here. Anyway, you're bound to see stuff like this:
Instant Commissions!
Make Money Doing Nothing!
Guaranteed to Make $10,000 in 2 Months!
A Business Made for You!
You get the idea. Don't believe any of this. Even if there's a 'money-back' guarantee, even if it's incredibly cheap. I'll detail scams in future posts, but for now just know not spend money on seemingly amazing products.
Full of Energy! How to Start
---
Are you still rarin' to go? If so, great! With that mindset you should be able to weather the storm, so to speak.
To start affiliate marketing, you technically just need a link. You can get a link (or a set of links) by joining an affiliate program, with any company that does it. Powerhouses like Amazon and Apple offer affiliate programs, as well as dedicated marketplaces like Clickbank.
While having a link is fine, there's no where to really post it without a website. Forums are a decent place, but it's hard traffic there. You can try social media, and there are individuals who do, but you would need a huge (sizable would do as well) following.
This is why websites are the key to success here. I could never understand that until I was cheated already, and I would hate to have someone repeat my mistake.
So we're clear that websites are needed. If you're not really a technical or internet-savvy kind of person, it's OK. People as green as you (me) have gone on to make a killing in the internet sphere.
The program that convinced me so is called Wealthy Affiliate. It's taught me more than I could have dreamed, and helped me easily launch a website. I'm not gonna go in detail here, but you can check out my review of it at this link.
A New World! Welcome to Affiliate Marketing!
---
I hope you enjoyed this look at affiliate marketing. It's an overlooked business, and I'm happy to try and spread the word about it.
What you should keep in mind is that you have to keep going. Through lulls in activity, through writer's block, all that. Like any other business, affiliate marketing requires you to wait till you get big.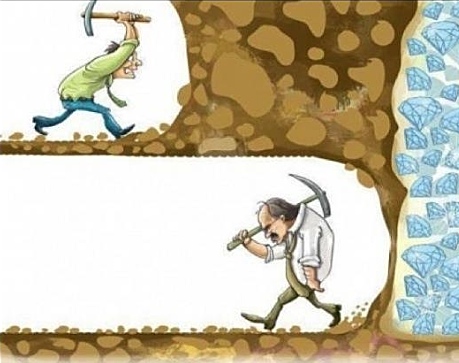 Before I close out, I wanna reach out to those who decided affiliate marketing wasn't for them. I respect your decision, and if you want to make money in other areas of the internet, I have an ongoing series where I present and explain other ways to make money online. It's a good place to look. You'll find lots of ideas! Just click here!
And if you'd like to start with affiliate marketing, I strongly recommend visiting my review of my #1 program.
Got any questions about affiliate marketing? Better yet, are you an affiliate yourself and have some thoughts to share? Leave them in the comments below! And if you liked the post,  please share it with others!
Your pal,
Makki
Save
Save
Save
Save
Save
The following two tabs change content below.