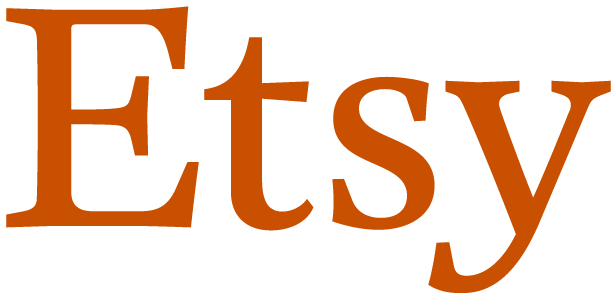 Hello readers! Welcome to another edition of 'Profitable Platforms!' You can see previous posts in this category at this link. Let's get started! 
In the midst of eCommerce giants like eBay and Amazon, there lies a smaller yet rapidly growing alternative. An alternative built on selling homemade or vintage items. A craft conglomeration, if you will (not the best description, but I like alliteration!). And I'm gonna give you the skinny on what, or more specifically, how to sell on Etsy!
 Enter Etsy!!
---
Etsy is a a online store centered around handmade or vintage items, as I said before. So instead of seeing auctions or brand new products, like eBay and Amazon, you'll see arts and crafts, old clocks, knick-knacks, and that sort of thing.
The selection Etsy has is exceptionally unique. It's like you're shopping out of your grandparents' house! Lots of really old valuable things. But it's not just antiques you can find. You can find art supplies, jewelry, bath…stuff, and so much more!
Why Should I Sell on Etsy?
---
Great question, headline. It's really very simple. Selling on Etsy is a justifiable choice for nearly everyone.
Are you an artist? We all know how hard it is for artists to get financial success. Theirs is a competitive industry. Etsy gives artists a platform to show off their work to people looking to buy art. That's the key. You don't browse an online store. You go there with the intention of buying things. Hence, many artists find great success on Etsy. Some even make a living!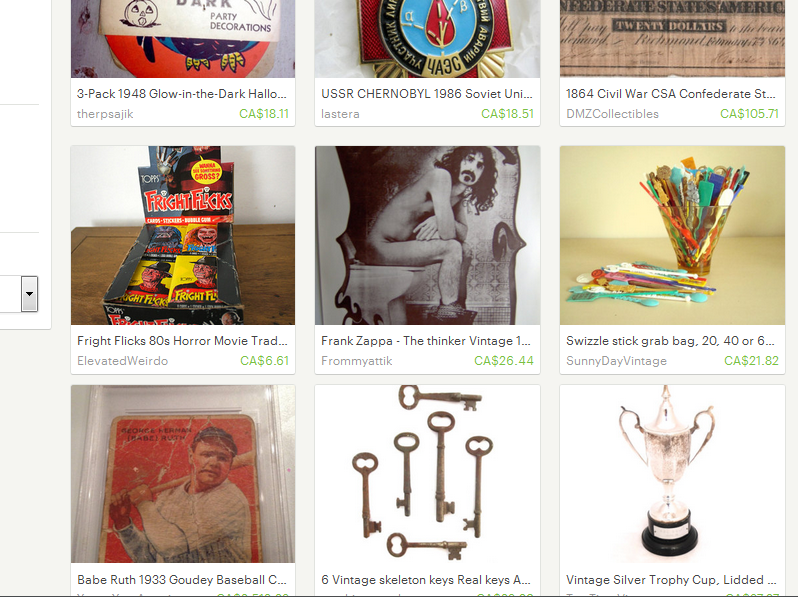 Is your home crowded with old or unusual (or both) stuff? Etsy is a great way to sell your vintage items, and make a quick buck. Since the website requires vintage listings to be older than 20 years, you're guaranteed to look professional.
Are you environmentally conscious? Etsy is a home for upcycled, or creatively reused, waste products. A creative seller can make his trash into something else, and sell it, instead of tossing it. You don't even have to be creative. Just selling really weird things is bound to interest at least someone.
I could go on and on, but the point is, if you have the motivation to sell in the first place, chances are you'll like the Etsy experience.
Alright, How Do I Sell?
---
Yes! If I convinced the headline, I hope I can convince you readers.
So the first thing you need to know about selling on Etsy is that you need an account. Well, you already knew that. I just had to start somewhere. Why am I still on this?
I signed in with Facebook (so gratifying to make an account with one click), but you can just follow their steps if you want.
Next you'll be taken to the shop set-up. I'll walk you through this, making a new shop myself!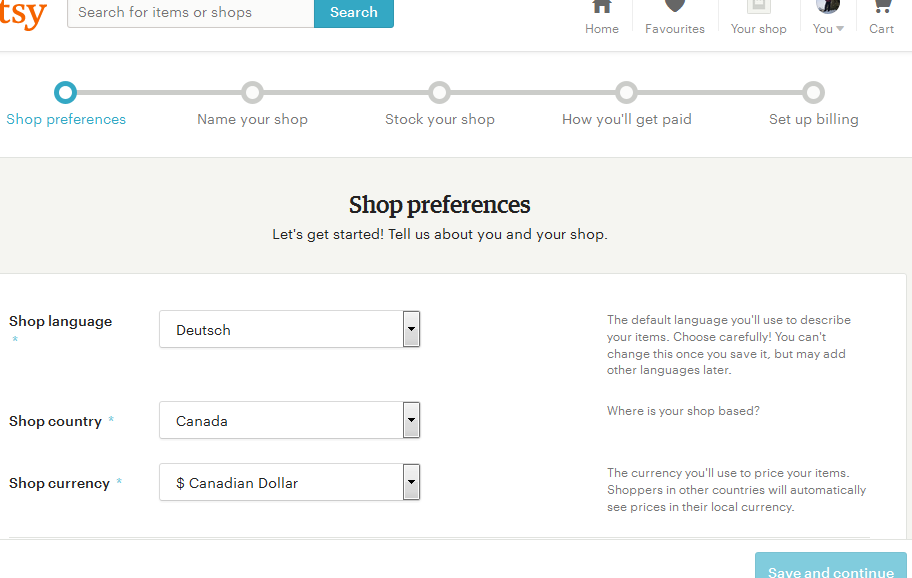 My deafult language was German for some reason… anyway, you'll then get to the naming step. This is different from eBay or Amazon, where you don't really need a name for your store. But branding is important in any case, so give your shop a name that fits whatever you do or sell.

A brand is something you really should appreciate having. It makes you more reputable.
So after you name your shop, you're asked to list up to 10 items. That's a good idea, as you'll have more chances to sell. For me though, I'll just list a really old book of mine. Hey, I did say I wasn't very artsy, didn't I?
It's a good time to mention that Etsy charges $0.20 to post a listing. It's not much, but it's good to know.
So, you see that I took 2 pictures. It might not show well in the image above, but I made sure they were clear. If you're serious about Etsy, you absolutely need to have high quality pics! That means good lighting, mostly. You can do it with a phone camera.
Next, you have to describe and price the listing. I'm gonna show you how I listed my book, 'Anne of Ingleside.'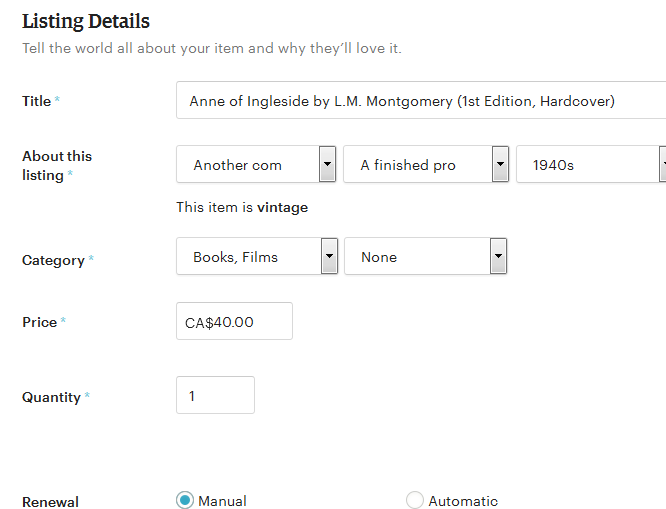 I'd say it's worth 40 greenbacks, right? It is hardcover and 1st edition, after all. Maybe I should ask for more?
Oh yeah, I'm supposed to be moving on. The idea here is to price according to how much you're gonna work on your wares. It's really how much you value your crafts. And if you're selling old stuff, try to get an idea of how much it's worth. I took the book to a used book store to get a number.
Remember, you can list any quantity you want. The listing itself only costs 20 cents. So buying in bulk is not unheard of.
The last thing you'll be doing is describing your item(s). Take a look at mine.
The description is very important. Make sure you include how made what you're selling. Make it personal. I'm more likely to buy a painting from a passionate seller, not one who's description reads like a document.
Haha, that assumes I'm buying a painting in the first place! But you get the point.
Finally, you enter your payment information. Your credit card, billing address, that sort of thing. Here's a view:
In retrospect, I could have just left it blank… but I hope you're familiar with that meme! Now, at last you have your shop. It'll be pretty bland when you first see it. Your job is to spice it up.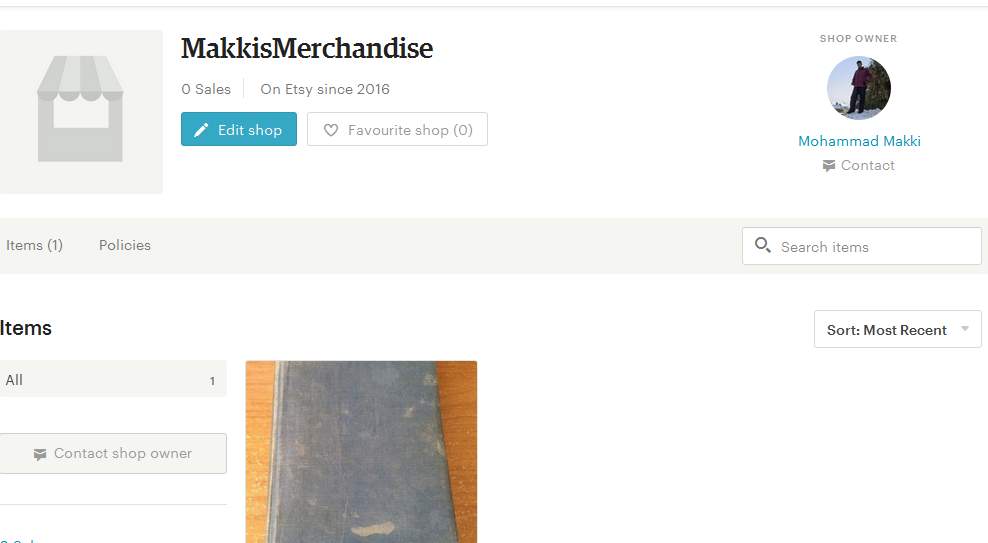 So now you have an Etsy shop. Before I close out, let's see what to keep note of when selling.
Downfalls of Inexperience!!! What to Know!
---
Have Decent Pictures
I said this before, but you have to remember it. Good photos are crucial. They can completely change someone's view of a product.
Choose a Niche
This is self-explanatory. Make sure you sell in a specific category, and try to go to broad. Instead of 'jewelry,' you could have necklaces, and then silver necklaces. The point is, don't be too general.
Be Patient
As I've explained in other articles, you can't expect to have sales as soon as you open shop. Online business is business, and business can be slow to start.
Know Your Keywords
Keywords are the searches in search engines. You need to use a sophisticated keyword tool (like Jaaxy's) to see what words and phrases are getting traffic. Then you use some of those keywords in your listing.
Make Sure You Enjoy It
When you do any kind of work, it's ideal that it be fun. Maybe your regular job isn't fun, but you're selling online so you can actually have fun. If you're doing it only for money, you will quit very quickly. I've been in that position.
Ready to Craft?! Artists Assemble!!
---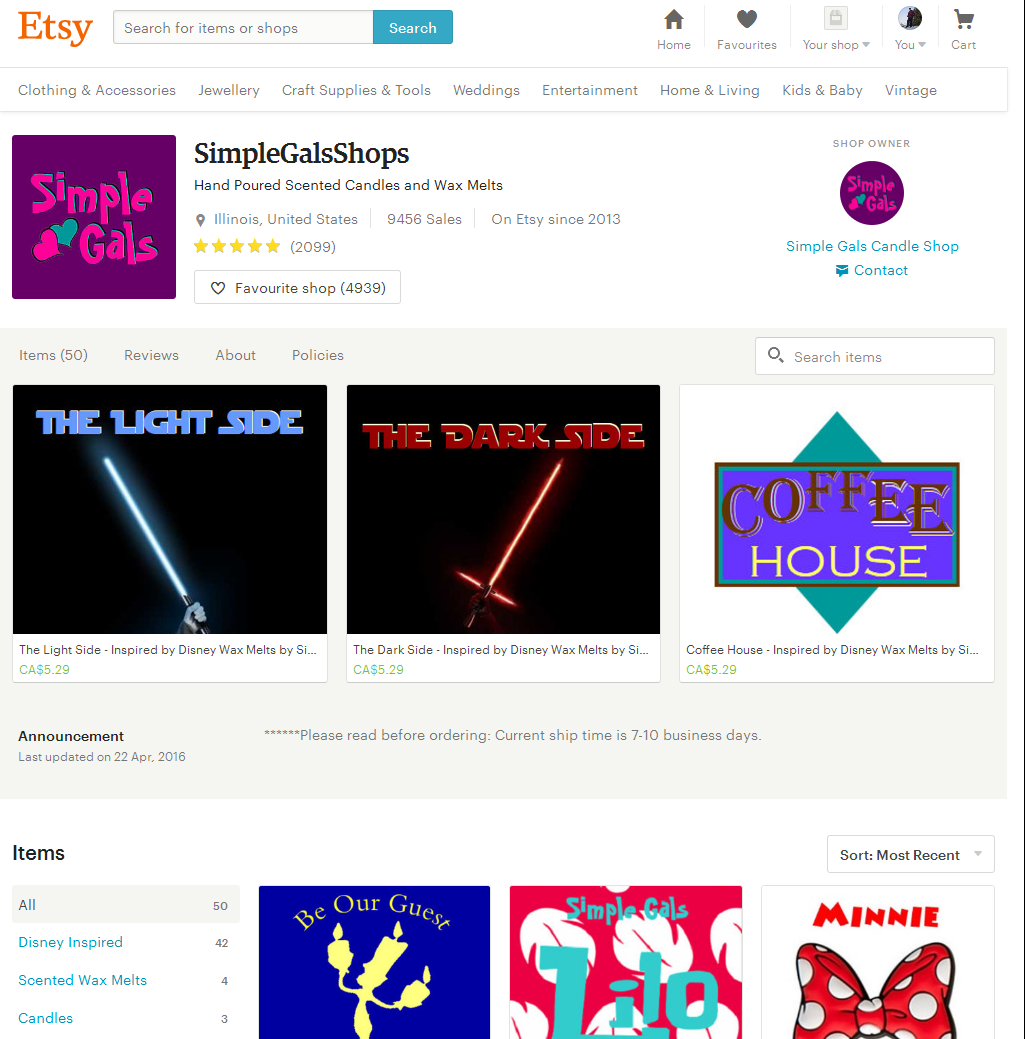 Etsy is a very unique platform. It prioritizes creativity and micro-production. That's a valuable trait for the 'little guy.' I've seen and bought things that wouldn't exist if not for it.
I think those creative types will really enjoy what Etsy has to offer, and vice versa. The presence of a site that allows art to be sold, and thus encourages artists to keep creating, is huge boon to the art industry.
If you're not interested in selling things on Etsy, I recommend checking out my #1 program for making money online.
What do you guys think of Etsy? Are you considering a shop on it? Have you already tried it? So many questions! Let me know your thoughts in the comments below!
Your pal,
-Makki
Save
Save
Save
Save
Save
The following two tabs change content below.