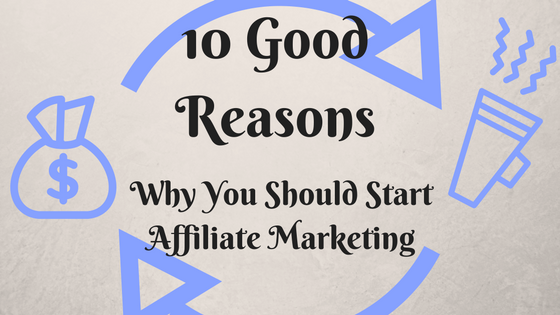 There are lots of ways to make money online these days. I even have a whole category full of 'em right here. But no matter which one I try out, the best one is undoubtedly affiliate marketing.
For those who don't know, affiliate marketing (AM) is basically promoting other people/company's products in exchange for a percentage of the profits. You can read more about that in this introduction.
Recently, affiliate marketing has boomed in popularity, mostly because of interest in working from home (university isn't what it used to be, folks), and partly because so many scams hype it up.
Whatever the cause is, this is an awesome way to make money online, and here are 10 (pretty convincingly) good reasons why you should start affiliate marketing!
Work from Home
This is kind of an innate bonus, since mostly all online businesses are work from home jobs. Still, it counts. In this business, you don't need to rent a floor or building or whatever. When you're affiliate marketing, all you need is your computer.
That means no office space, or leasing costs (aside from your regular rent). It also means you're your own boss. You decide your hours. for better or worse. You don't even have to commute. Complete freedom!
Of course, you may soon find out you may be a strict boss yourself…
No Inventory Needed
I used to run a moderately successful eBay store, and while it made some good money, I always hated the inventory aspect.
See, I had to keep things lying around, taking up a lot of space. That's one of the limitations of an eCommerce store. Unless you have a pretty big house, your stock is limited.
With AM, you don't need to have boxes lying around the house. You can sell as much as you want without worrying about storing boxes somewhere. Size doesn't matter either. You can sell fridges and airplanes if you so choose!
No Shipping Costs
This is a big one. When I was running my eBay store, I had to regularly buy supplies like boxes, labels, envelopes, bubble wrap… it was a ginormous headache. That wasn't the end of it though! 
I still had to worry about shipping rates, both local and international. As a Canadian this was especially costly, since rates are high here.
But if you're an affiliate marketer, you don't need to ship. You're not the one selling the product! All you do is promote it. The shipping responsibility is on the seller. It's a huge relief!
No Customer Service Needed
Hear me out on this one. Affiliate marketing does involve some customer service, but it's entirely optional and usually just involves questions about the product or how to contact the seller.
What you don't have to do is deal with angry buyers, lost packages, wrong orders, and all that jazz. That customer who wants a refund? Not your problem. This is especially useful if you just can't handle these types of interactions.
Low Expenses
To promote a product, you just join a marketplace like ClickBank or a an affiliate program like Amazons' and start promoting. That's it.
It's totally free to get permission to promote stuff. After that you just need to set up your site, which you can do for free. Sure, along the road you'll need to pay hosting, but the start-up cost is zero.
Yeah, some scams make you pay to be able to promote their products. These are MLM schemes, and you don't have to worry about them.
Passive Income
Make no mistake, everyone wants passive income. I'll tell you right now that if you're serious about being financially free, you need it.
This is why so many people are interested in affiliate marketing these days. They know that AM is a legit way of making money without actively working. And in some ways, that's true. You can earn money "while you sleep" as an affiliate marketer. But that's not the full story!
Let's face it: we've all tried to earn passive income before. It's why scams are so popular. They always promise you'll be making money without work.
The truth is, there's no such thing as true passive income. You have to put in a lot of effort to begin. When you start AM, there's a ton of work involved, from keyword research to writing to promoting.
Building and growing a website is not easy. But if you can weather the storm, you'll be working less and less as your income grows!
Minimal Risk
This sorta builds on some previous points in the list. Basically, compared to a regular brick-mortar business (or even eCommerce), AM is extremely cheap. The maximum you'll be spending is around $50 a month for the best hosting (if you decide not to keep a free site).
So, if for some reason you decide to quit, you won't be writing off a very large amount of money. Let's assume it'd take you 6 months (that's a very generous estimate) to decide to continue or not.
If you kept your free website, you wouldn't lose anything. Even if you paid (which is unlikely if you're hesitant), you're only looking at about $300. Now that's not exactly pocket change, but compared to the thousands you would lose trying out other businesses it's quite reasonable.
Worldwide Reach
Affiliate marketing is an Internet business for the most part. Your audience is global. You're not selling to Houston basketball fans, or American basketball fans. You're selling to all fans around the world. Your reach is unlimited… ball is truly life.
Distribution fees and export rates are a thorn in your side. Leave the products to the seller and promote them instead.
High/Nonexistent Revenue Ceiling
Apple sells a lot of phones. You probably know that. At the end of 2014, it sold about 75 million iPhones. That's a huge number. But the next year it reported the first ever year-over-year decline in sales.
There's a reason for that. The smartphone market is saturated. Pretty much everyone has one by now. Affiliate marketers don't have to worry about limits. There are always gonna be products to promote to people.
And, they don't have to worry about caps either. They earn as much they work for, not what their salary decrees.
Some marketers earn thousands or hundreds of thousands of dollars a month, and are still growing. Affiliate marketing is limitless.
Endless Variety
If you've shopped on Amazon before, you would know how much range they have. You can find almost anything! That goes for the rest of the internet as well. People are selling everything.
That's good news for us marketers! Snow globes, cat food, stamps… just some of what we can promote. There's also barbecues, boxing gloves, broaches, and any other noun you can think of!
Marketplaces like ClickBank and Commission Junction cover thousands of digital and physical products, and with Amazon most of your niche needs are covered. Plus, many companies have individual affiliate programs. Everything is covered!
Convinced Yet?
Affiliate marketing is a huge industry that's filled with lots of benefits. Just look at this list!
You probably noticed I complained about my eBay store quite a bit. Once I got introduced to AM, I found almost all of complaints were solved. Yeah, it takes quite some time at first, but it pays off in the end.
In my humble opinion, AM is just the best way to earn an income online. It could be pocket change income, but then it turns into a side job, then your real job. All it takes is hard work and determination (and a little help).
Did all these reasons help you decide to start affiliate marketing? I hope so! If you have any questions, leave a comment below!
And if you liked the article, feel free to share it! Pretty please?
Your amigo in affiliates,
-Makki
Save
Save
Save
Save
Save
The following two tabs change content below.