Hello readers! Welcome to another edition of 'Profitable Platforms!' You can see previous posts in this category at this link. Let's get started! 
Today on 'Profitable Platforms,' we're looking at an online oddity in the world of internet business. I've sure never seen anything like it. It's a free program, called Swagbucks, that pays you for doing simple tasks online, like shopping, taking surveys or watching videos. Can this actually be true? Today I'll be answering the question you're no doubt thinking right about now: does Swagbucks really work?
What is Swagbucks?
---
Glad you asked. Swagbucks is basically a program where you perform various online tasks for money or coupons. Pretty simple right?
So you could watch a video, or play some game or use the Swagbucks search engine, and you would get 'Swagbucks' in return. As you accumulate Swagbucks, you can trade 'em in for gift cards or prizes (the gift cards are the main attraction) or even real money. 100 Swagbucks are equal to $1. It's not much, but this is free.
Now, at first glance, this has 'scam' written all over it. But I assure you, Swagbucks is the real deal. It's a known, mainstream company, and it doesn't show any signs of scammery. Plus, it's free to use.
Is It for Me?
---
What kind of a question is this, headline? You're a line of text. How could you use money in the first place? I'm talking to the readers.
Sorry about that. Now, Swagbucks is for anyone. I don't think any sane fellow would refuse to earn money for simple tasks. But there is a drawback to this universal appeal. Swagbucks takes time.
Well, the tasks themselves are short enough. But you have to save up a lot of bucks to be able to get a gift card. So basically, a $10 Amazon gift card will cost 1000 bucks, and an average task will get you about 20 bucks. Some give you less, others give you way more.
I'm gonna return to this after giving you a clearer idea of what Swagbucks is and how it works.
Does It Really Work?
---
It sure does. I'll even walk you through a tour of Swagbucks, just to prove it.
I'd recommend starting a Swagbucks account here first. I signed in with Facebook, because Facebook logins are the future. And one click. But you can manually sign up… I really should get going.
Confirm your email, then you'll get to this page: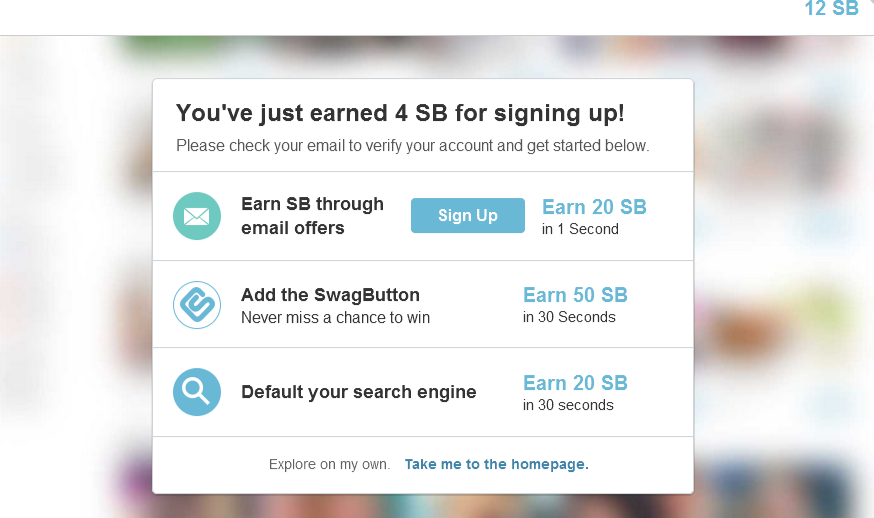 Why didn't I just use SB instead of writing out Swagbucks the whole time?
Anyway, you should know the core of Swagbucks, is the search engine. Yeah, they have their own, and earning Swagbucks is the incentive to use it. You could make it your default engine if you want the SB. It's what I did.
I would add the Swagbutton for a quick and easy 50 SB. What do ya got to lose?
Next, you'll get to the homepage. It's pretty hectic. But I'll show you how it works.
See the 'popular ways to earn' section? Swagbucks gives you cashback for shopping online. As you can see, the deals vary significantly. It's a good idea to have the Swagbutton installed on your browser. You'll be alerted of point opportunities.
You'll notice many more things to do as you look around. The sidebar on the left shows how varied an experience you can have. Try to do everything! If you have time, of course.
I'll give you an example of the survey screen, just to show what it's like.
That's a lot of surveys! And like my loyal caption said, nabbing all the points would take quite some time. This is why Swagbucks is best used on the side.
So that's the gist of how Swagbucks works. Don't worry, we're not at the end yet! You might want more info.
Time-Wasting Tasks! Is Swagbucks Worth It?
---
OK, you now know the basics of SB. I'm sure some of you already earned some points! Yep, Swagbucks is one cool website. But let's just turn down the hype a little.
As you've seen above, points aren't worth a lot in low numbers. A $3 Amazon gift card will set you back 300 points. It'll take you at least a couple days to earn that much.
What I'm trying to say is, Swagbucks is not a job.
I boldfaced those words, so pay attention! If you go into this expecting to make big bucks, you're in for a world of disappointment, reader. At most you'll make a few cents an hour, and that's if you put all your attention on it.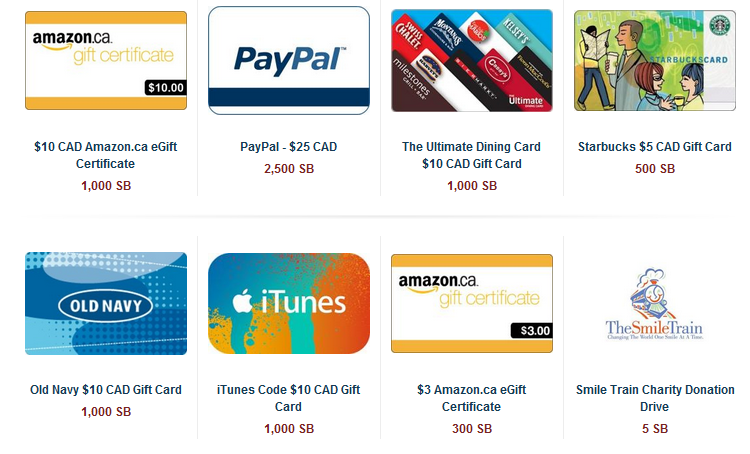 If you really wanna work online for decent pay, I'd suggest a freelance website like Fiverr. Or anything else in 'Profitable Platforms.'
Or you could try out what I use to make a living online.
Oh yeah, I should also mention some tasks (especially the surveys) can get repetitive and ultimately boring. When it feels like a chore, it's a good idea to take a break.
But if you're not actually expecting lots of money, you'll find SB is pretty useful. If you spend a couple minutes doing tasks everyday, you'll end up with some cool gift cards every month.
For lack of a wittier saying, the answer is, SB is worth some of your time, not all of it.
Paid Perusal!! Swagbucks is Slow!!
---
Like every program, Swagbucks has it's upsides and downsides.
All in all, though, I would definitely use Swagbucks. Well, I do use Swagbucks. It's a great momentary distraction when I'm waiting, or bored. Chances are, many of you guys are like that too.
If you decide to use Swagbucks, I recommend using the SB search engine. This is by far the least intrusive way to get points. You're searching anyway, right? You're guaranteed to get a while bunch of Swagbucks just from searching. Actually, you could use the search engine without the main site and still get rewards.
If you don't think it's worth it, just remember $1 is better than $0, and using something as passive as the search engine will give you at least a couple of dollars.
Sign up here if you're interested in a Swagbucks account. I've told you a lot about it, but you might wanna try it yourself. It's free, after all.
But again, you're not gonna make real money online. If you wanna learn about a way more efficient and fruitful way to actually make a living online, check out my free #1 program right here! If it works for me, it'll work for you.
What do you think about Swagbucks? Have you used it before? Was this your first time reading about it? Are all these questions starting to bug you? Let me know in the comments below!
Your sidekick in Swag,
-Makki
Save
Save
Save
Save
Save
Save
Save
Save
Save
Save
Save
Save
Save
Save
Save
Save
Save
Save
The following two tabs change content below.