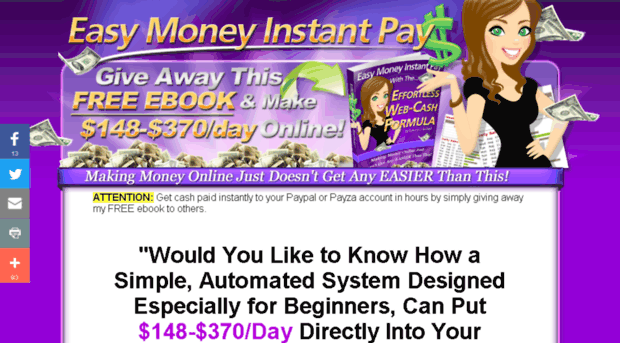 Effortless Web Cash Formula
Overall Score: 2/10
Founder: Lauryn Hebert
Price: $37
Website: http://effortlessweb-cashformula.com/
Hello there readers! It's Makki again with a new 'get rich quick' scheme to review. Will this product actually net you big bucks? You know the answer, but let's have a closer look!
What is the Effortless Web Cash Formula?
---
I'm sure even the headline is struggling to support that mouthful of a name. A long name is usually means a quality product right? They obviously have a lot of thought put into them!
I'm gonna have to dismantle that straw man I set up back there. No, having a big catchy name does not mean this product is any good. In fact, God help you if you waste money on this blatant scam.
Are You Done? Let's Hear What This Is!
Alright, alright! The Effortless Web Cash Formula (OK, let's call it EWCF for short!) is an eBook. That's it. It's an eBook that you're supposed to get rich from by reselling it.
Well, that not the whole case. The eBook is a sales letter that promotes a $37 offer to buy the rights to that same eBook. You're supposed to distribute the eBook to someone else, and if they spend the $37, you keep 100% of the earnings.
Sounds good at first right? Here comes Lauryn (the creator) promising you hundreds of dollars a day (sound familiar?) just for buying an eBook. Doesn't that sound suspicious? Not even 'Finding Dory' was that fishy (great movie, by the way).
 What's So Bad About It, Bub?
---
Good question, headline! Well, at first, having your own eBook that you can sell yourself does sound good in theory. So you buy this thing and are ready to get rich. Cool! What happens next?
That's the catch, friend. How do you promote this? Chances are, if you bought this, you're a total newbie at internet marketing. That means:
You have no known website: this hurts you the most, and all EWCF gives you is a landing page.
You have no idea how to get traffic to that site
You have no email list or anything of the sort
EWCF charges you $37 and gives you a simple landing page, a one page website. I previously went over how I built 2 full websites (like the one you're reading now) for free.
All you have is an eBook that no one will see! Selling online is hard work, not the passive income dream so many think of it as!
The truth is, all those internet millionaires started very slowly, building themselves up. Traffic doesn't come easy!
OK, you could pay for ads or freelancing or whatever, but that totally defeats the whole premise of the EWCF, doesn't it? The 'done for you' premise?
This problem alone is enough to justify not purchasing this eBook, but there are others:
Here's a thought: just as you're buying the rights to this eBook, so too are hundreds of other customers! That means it's not unique in any way.
You may not feel strongly about duplicated content, but Google does, and it will penalize you for having such content. Be aware of this.
Let's just assume people even get to your eBook offer. Who would buy it? No one who knows even the first thing about online business/internet marketing would be interested in reading it, let alone buying the rights to it.
If those problems weren't bad enough, there's also the fact that as soon as you buy the rights, you will be offered an up sell. So you're basically taken to buy other useless products. A common strategy in the industry, and one that works well.
The Bonuses
I hate not giving the full story, so I'll tell you about the bonuses. Every $37 purchase includes 17(!) bonuses, supposedly worth $800. You can probably guess how thinly the quality is spread across these bonuses.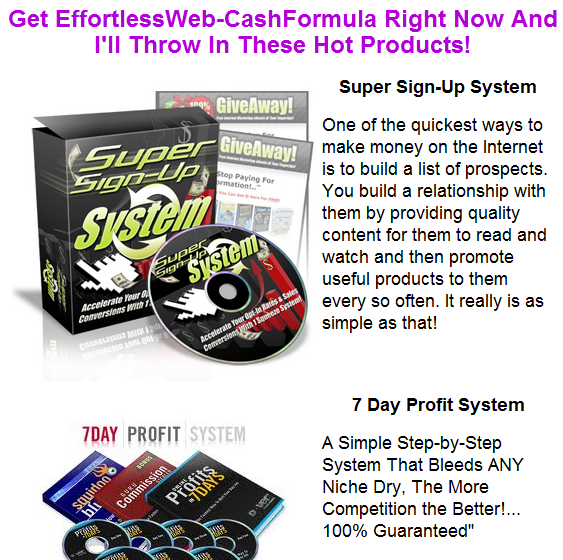 To put it lightly, all the bonuses are actually simple internet marketing basics. An example would be the PDF maker. Really? I can make a PDF for free with a simple Google search.
The list continues. A Facebook 'like' generator, a backlink 'supercharger' (this is dangerous for your site), and a 'Spam Learner,' among others. The point is, all of these can be done for free. Why would they be used as bonuses? Just more guru rubbish.
The Worst Part
Now here's what you absolutely need to watch for: There are no refunds. Yeah, no joke. After you spend your 37 greenbacks, that's it. You're forever parted with your cash. I shouldn't need to say this, but never buy ANYTHING with out a return policy/money back guarantee.
The excuse used is that it's a digital product, but that doesn't stop other gurus from offering refunds, does it?
There's just so much bad with the EWCF.
Then What's Good About It?
---
You wasted a good title, headline. There is nothing I can find that's truly positive about EWCF. Maybe the fact that you're given the license to the book. I'm just reaching. If I mentioned anything else, I'd be lying just to pad out this section or promote it with a link.
Actually, I can tell you more bad things, if you want. But anything beyond what I wrote up there would just be nitpicking.
Hope Survives! A Better Choice!
---
Despite what the name implies, the Effortless Web Cash Formula will not lead to cash gained. Only cash lost.
The reason Lauryn Hebert can give away the rights for $37 is because she's already made money when someone buys the eBook, because there are no refunds. It's why she doesn't care what you do with it.
Anytime you see a name with 'effortless' or 'done for you' in the title, walk away. You need training and support to be able to make money on the Internet. No product you buy online will ever make you instantly rich…but there is glimmer of hope in all this, a way to become eventually rich online.
If you wanna make it online, you're gonna need a website, training, and quality support, and I'm happy to say there is a program like this available for FREE. It even gives you 2 full free websites! I highly recommend reading my review of Wealthy Affiliate, which tells you all you need to know. I hope you get started soon!
Do you have any experience with EWCF? You wanna tell me how bad you found it? Just leave a comment below!
You could also share the review, if you want to.
Your pal,
-Makki
Save
Save
The following two tabs change content below.