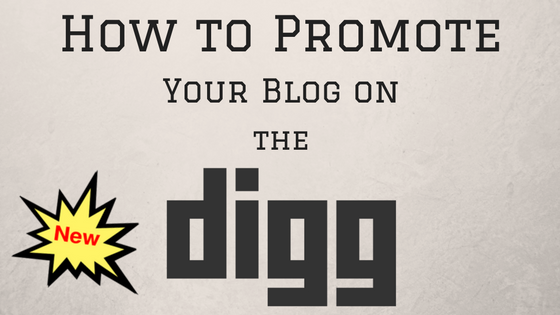 After I discovered StumbleUpon and experienced its traffic-generating powers, I decided to pause my stumbling binge to check out a site I discovered (again) through Twitter- another easy blog promotion platform called Digg.
Well, maybe not that easy…
Digg is a social news site, as opposed to a discovery engine like SU is. Users submit articles/blog posts to the database, and other users can 'digg' those submissions. A "digg' is basically a like, which you really should be familiar with by now.
Digg used to be hugely popular from its release in 2004 to around 2010, but spam, bad management, and easy exploitation caused it to close in 2012. The Digg we're talking about here is the reborn Digg, and it's extremely different from the old one.
Unlike StumbleUpon, Digg isn't completely randomized. You still find interesting content, though. There's just no "stumble" button.
But like StumbleUpon, Digg's content database grows by link submission, which is where you, the blog promoter, step in. That's a big reason why people associate the two sites. As I explain here, Digg is a great place to promote your content for free.
How Does Digg Work?
---
Luckily for us promoters, Digg is very easy to understand.
Digg is a news aggregator. It collects articles from all over the Web and presents them in a "front-page" style.
A lot of these articles are long or in-depth, which isn't what you would see on SU, where lists and viral content is more popular.
I honestly spent a lot of time on Digg as I wrote this post, mainly because it has "rabbit hole" potential, like SU and Wikipedia do. I do hate wasting time, but I could learn a whole lot from a few articles.
There is another benefit though. Digg is a powerful way to find new ideas for blog posts. Since most of the stuff you read will be on or near the top of the page, it's a good way to get a feel of what's popular. You could even find new blogs to follow as well.
Notice the diggs each post has? The more diggs a post gets, the more likely it is to be featured on the main page. Or, as you can see at the top, they could be featured right in their own category.
So in a nutshell, more diggs equals more exposure… generally. The site has reduced the impact of Diggs since it relaunched, since it was so easy to pay people to digg. Even so, Diggs can only help a post.
Submitting Your Content
---
I felt this section was necessary, because this part was confusing at first.
See, the link to submit links (heh, heh) is found on the footer of the site, but the footer only appears on the main pages. Any other page won't show it because they're all feeds that don't end.
This is the Digg menu. The links at the top (except Store) will have the "Submit a Link" page. All other pages don't have the footer.
Why the footer menu couldn't be everywhere, I don't know.
Anyway, one you get to the link submission, you, well, submit that sucker.
That's pretty much it. One you submit a link, it's sent to the moderators for approval (unlike the old Digg), and after that you'll just have to hope it gets diggs.
…Not really. This isn't a hit and run operation. There are things you can do to help your links get more diggs. Well don't just stand there, move to the next section!
Using Digg to Get Traffic to Your Blog
---
As I said a subheading ago, just submitting links and expecting a flood of traffic isn't very practical.
You need to do things, and actually participate on the site, which brings me to the first to the point:
Note: once you submit a link, there's no way to see how it's doing. So your attention should be focused on the content you're submitting.
Be Active on the Site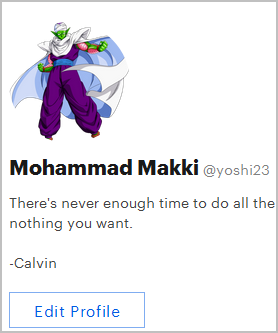 It goes without saying that active users of any social media site are more popular than the ones who just lurk around. As a former lurker, I would know.
When I say "active," I mean actually digging other posts, submitting lots of content, all that jazz. This mainly shows Digg that you care about the site and can help you get noticed.
It'd also be a good idea to complete your profile. Of course, unlike StumbleUpon, Digg doesn't have many social features, so it won't have much effect. However, I'd still do it if you want to take part in Digg Dialogs.
Dialogs are basically discussions held on a specific event, like a news story or documentary. I don't care about them, but the discussion is civilized, so there's that.
Don't Be Selfish
Understandably, Digg will punish users who only submit links. They consider this spam, so it's important to digg as well.
Keep in mind that the new Digg is way more serious about this than it was before it was revamped. You'll have to restrict yourself and not barrage the site with your posts.
Submit Great Content
I really hate resorting to a tip that's cliche, but it does work well here.
After its rebirth, Digg became mostly a content curator, which means that great content is to expected.
Now, when you submit a link to Digg, it's usually gonna be accepted, as long as it's not spam or especially thin. I've seen some not-so-great articles on the site.
However, the front page isn't determined by an algorithm…it's determined by a team of editors! How's that for a twist?
Okay, not exclusively by editors. A computer (or something) sorts out the top articles in terms of shares, clicks, and diggs, and then those top articles are sent to the editors.
So it's a challenge to get huge exposure, but the right content can do the trick.
Temper Your Expectations…
I've already harped on about how easy it is to submit your posts to Digg. And it is, make no mistake. But that also means you shouldn't expect too much out of it.
As a free way to promote your blog that isn't social media, Digg can't be expected to generate a flood of traffic. Don't get me wrong, it can get you hits, but the chances of anything game-changing is very low.
There's also the fact the traffic won't be very targeted. Depending on your niche, that could be a problem, or not. Just Saiyan.
If you can get your content to the front page, that's another story. The chance of that happening is pretty low, though.
Despite all this, it's still worth it to submit your links to Digg. It doesn't take much work and honestly, any free traffic is good traffic.
Or Consider Advertising
Like StumbleUpon, Digg offers paid advertising. I can't vouch for it, mainly because I haven't tried it yet, but it does seem to work.
The cost of the ads is $6/CPM, which is a fancy way of saying 6 bucks for every 1000 impressions.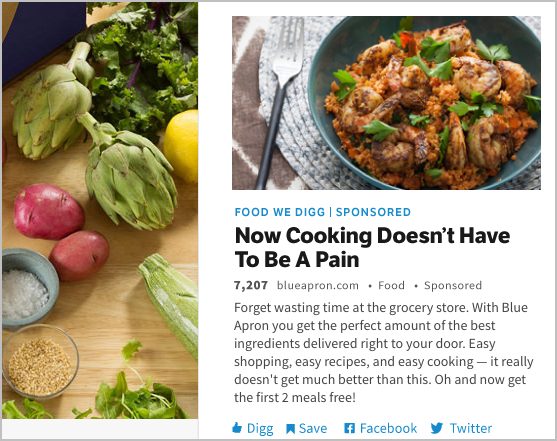 Admittedly, the targeting is rather weak compared to other paid ad services like Google and Facebook, or even SU (why am I still comparing them?).
For geo-targeting, you can choose between worldwide or United States, with specific options for most US cities.. That's it. Targeting the US adds another $1.50 to your CPM, though.
I'd only go for this option if I just couldn't wait or needed results no matter what.
Digging Up a Few Closing Thoughts
---
These days, Digg is almost obscure compared to how it was in the past. A lot of people (read:me) don't even know it still exists.
I'm happy to say that the Digg I'm using now is a completely different site. It's just a really useful content curator and the editors seem to making huge efforts to improve. At least, that's what they sounded like in their Reddit AMA.
If you haven't already, I highly recommend trying Digg out. It might not give you perfect results, but it's free, and any exposure can only help, am I right?
Thanks for reading! What do you think of Digg? Did you try it out? Got any questions? Leave a comment below!
And if you enjoyed the article, please share it with others on social media!
Your deputy in digging,
-Makki
Save
Save
Save
Save
Save
Save
Save
Save
The following two tabs change content below.