Hello readers! Welcome to another edition of 'Profitable Platforms!' You can see previous posts in this category at this link. Let's get started!
Here's something you probably didn't know about me: I love music! I play it on my trumpet and listen to it wherever I go. I might even try to play professionally. But I never thought that my love of music could be used to make quick cash online. Don't believe it? Well, let's change that! Today I'll show you music lovers how to make money with Slicethepie!
What the Fugue is Slicethepie?
---
Heh, heh. You know how a Fugue is a music term? I never cease to amaze myself.
*Ahem* Anyway, Slicethepie is, at it's simplest, a platform where you listen to a piece of music, give your opinion on it in a short review, and get paid for said review.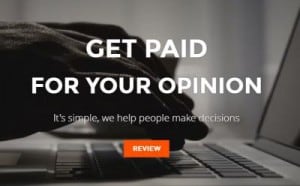 What? Is that it? I get paid for that?
No you don't. The readers do. You're just a headline.
But yes, that's what Slicethepie is. I kid you not, this is legit. It's totally free to join, too.
We've looked at similar programs in the past, but unlike websites like SwagBucks, which are selective about who qualifies for a survey, Slicethepie pays you no matter what!
That's too good to be true!
I know, right? Well guess what? It is!
I'll explain what I mean by that down below. But first, you're probably wondering, "why does this work?"
The best reason I can think of (I actually researched) is that lesser-known artists and musicians, 'the little guys,' get a chance to get some feedback on their work, leading to more opportunities for them.
It also helps them improve their work. You should keep this in mind before trying to rush through a review.
So the artists/musicians/bands/whatever pay Slicethepie, and Slicethepie pays you.
Let's see how it works!
Slicethepie in Action!
---
Now I'll show you how I make money quick in Slicethepie. It's very easy and surprisingly enjoyable.
Obviously, you make your account first. You can do that here. Then, you'll be taken to the Home screen!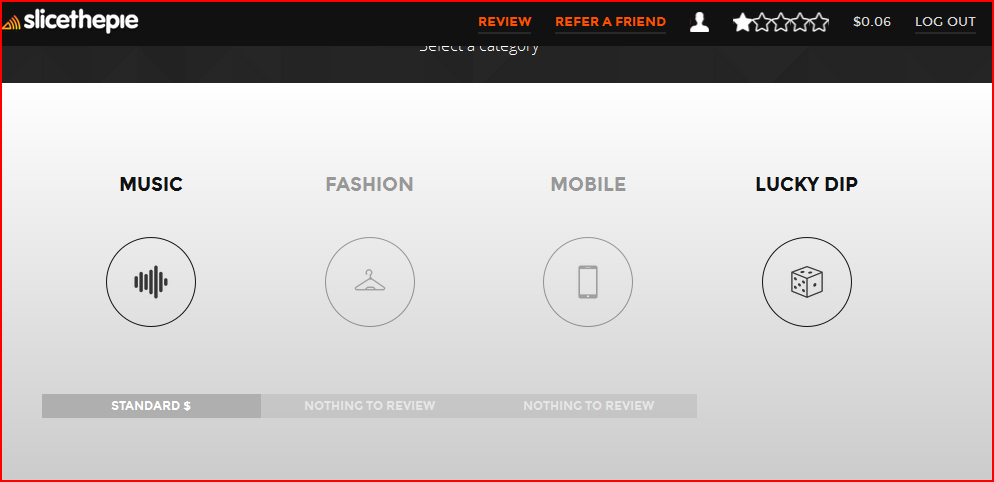 You'll notice that Fashion and Mobile are on there too. They don't work yet. I suppose Slicethepie is branching out.
So when you click on the only category you can click on, you get to the review screen: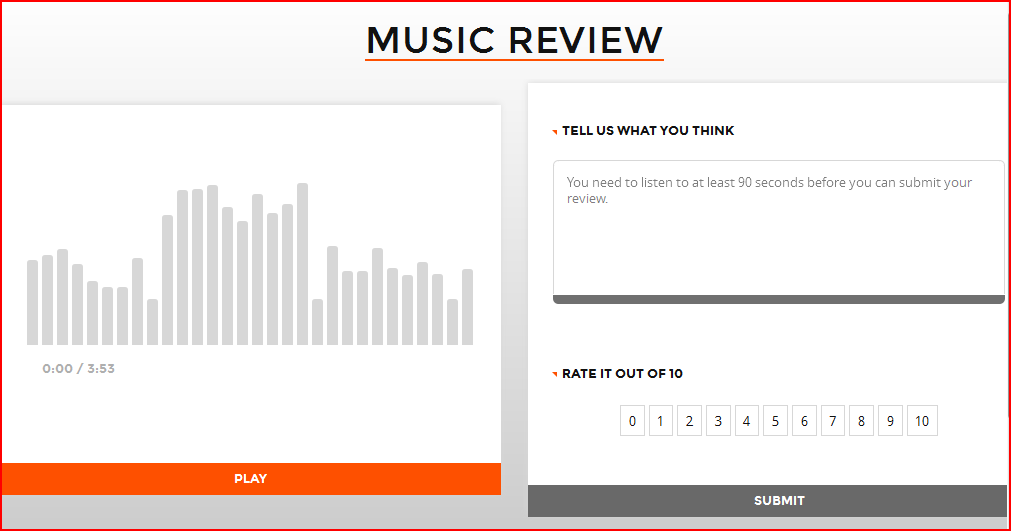 So the first thing you'll notice is, well… I don't know what you'll notice. It's a pretty evenly distributed screen.
I'll start with the "Play" section. This is where the song is played, and as long as I'm being overly obvious, that number is how long the song is.
Then we get to the review box. This where you write your review of the song. Slicethepie requires you to listen to at least 90 seconds of the song before submitting the review.
Don't complain! It's understandable to wait before forming an opinion. How can an opinion be formed in 10 seconds anyway?
I'll tell you more about the reviews later. At the bottom right you'll be able to rate the song out of 10. You have to. I know that whenever I read a review, I need a number to see. No one reads reviews without a number! It tells us all we need to know.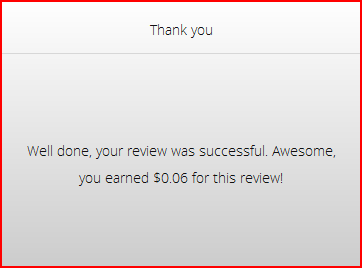 After the review, you'll get paid! Oh yeah! Check out my haul!
Yeah, that's the horrible truth. We're literally paid in peanuts pennies. It's not practical to get more than a few cents per review.
There are ways to get more than 6 cents out of a review, though!
The first is by increasing your rank. Rank is determined by how long you've been doing reviews, and how good they are.
Those stars represent your rank. As you can see, my rank sucks. I've only been on for a

few days though. Eventually I'll start to earn more. Up to 20 cents! I worked for an hour, and after about 10 review I was up to 3 stars.
That's still not much, but "you get what you work for." I know that's not the saying. It works, OK?
The second way is to write better reviews. There are multiple ways to do this, since Slicethepie relies on an algorithm to rate the reviews. Otherwise it'd take quite a while to get paid!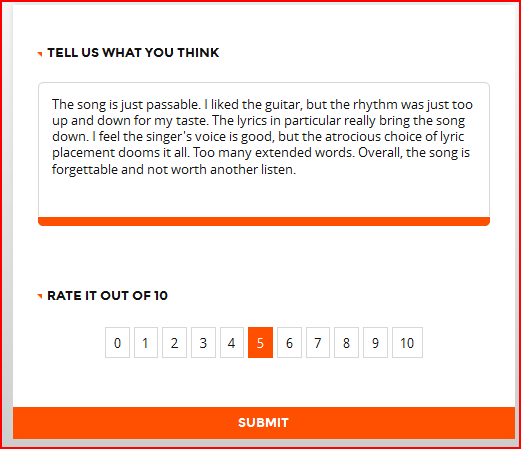 This is the review that got me 6 cents. You can *probably* tell that I didn't like the song. Hey, it's just my 6 cents! Haha! A play on phrases. My wit scares me sometimes.
That orange bar has to be filled before you can submit the review. A little quality control, if you will.
Let's continue. Reviews are based on several things you should mention. Here's what I know of:
Lyrics
Rhythm
Bass line
Vocals
Beat
Instrumentation
I'm sure there are more. But I think those are good enough to start with.
So in my review, I went over those terrible lyrics, and I mentioned the guitar being played (I love guitars). The vocals were also touched upon as well.
In hindsight, I should have analyzed it more, instead of hating on it. But that's another point: use descriptive language! I could have said 'bad,' but I used 'atrocious' instead. Have that synonym mindset.
Lastly, I'd say to take it seriously. You could use the same review over and over. You could play the song, do something else, and then submit generic, non-specific opinions. But don't. There are musicians out there that really take this feedback to heart.
Incremental Interludes!! Is Slicethepie Worth It?
---
Look, I just wanted a musical headline. It doesn't need to make sense.
Let me tell you, though: it's worth it for the artists themselves!
But for us users, the answer is wholly dependent on how valuable your time is, and how interested you are.
By now you know the pay rate is really low. We're talkin' a few cents per hour here. Before writing this I spent an hour straight working on Slicethepie. 
As you can see, I reached 3 stars and reached the half dollar mark. I'm insanely distractible, so I guess you could increase that by like 15 cents for an average.
That's still almost nothing. And unlike survey sites like Swagbucks, you actually work in Slicethepie. That means you expect more.
I'll also add that you only actually get paid after you hit $10. That's a lot of time.
Basically, if you're walking in expecting to have a full time job, just walk away, friend. Slicethepie can barely pay for a candy bar an hour.
But if you love to listen to unknown music, and wouldn't mind giving your opinion, then Slicethepie is a good time waster. A few cents is better than nothing, right? …Right?
Scrutiny of Songs!! Slicethepie's Sonata of Slowness!!!
---
Major alliteration points there. Slicethepie has it's ups and downs, no doubt about that.
Despite the abnormally small rate it pays, Slicethepie is still a nice way to listen and earn. Maybe the only way, actually. If you wanna earn a few cumulative dollars, it's certainly worth a try.
If you're interested in signing up, you can do so here. Hey, it's free. Why not have a look?
Though it is worth checking out, the fact is that, even at maximum capacity, Slicethepie still won't pay enough. With 20 cents being around the maximum, you're going to be writing a lot for very little.
If you're actually prepared to write a lot online, you should try freelancing on sites like Fiverr.
You could also check out my #1 program for making REAL money online. I'm talking actual income here, not pennies at a time. It works for me and it'll work for you.
Have you used Slicethepie before? Did I persuade you to try it out? How did you like it? Better yet, how impressed were you with my musical terminology? Let me know in the comments!
-Your mentor in musicology,
-Makki
Save
Save
Save
Save
Save
Save
Save
Save
Save
Save
Save
Save
Save
Save
Save
The following two tabs change content below.