Hello readers! Welcome to another edition of 'Profitable Platforms!' You can see previous posts in this category at this link. Let's get started!

What's going on, fellow readers? Oh wait, I'm not a reader… hm. Anyway, on today's "Profitable Platforms," we're gonna be looking at InboxDollars. What is InboxDollars about, you ask (just pretend you asked)? In short, it's a website that pays users for completing tasks like playing games and answering surveys. But let's take a closer look, shall we?
What is InboxDollars?
---
Started in 2000 by Darren Cotter, InboxDollars is a way for you to earn cash (more like coins) doing simple tasks (more like chores) online.
It's a rewards program, very similar to Swagbucks. You watch videos, perform searches, play games… all for money!
Here's a little clip from the company themselves:
Pretty slick! Billy the dollar bill is my favorite legal-tender mascot of all time.
The video is a good intro to InboxDollars, and it's true: you actually get paid for doing things you'd be doing anyway. For everything you do, you get actual money, not points. And there are a decent number of tasks to do.
No, this isn't a scam. InboxDollars is an established company that pays its users.
Let's see what these tasks are, and how much the pay is!
Earning with InboxDollars
---
There are about 7 ways to earn some money with InboxDollars. You gotta keep in mind that you have to have at least $30 to withdraw your money.
You can sign up here. You get $5 just for doing so! It's not very helpful that you have to grind $25 more to get that $5 though. You have a bit of choice, but the highest paying way to earn money on InboxDollars is…
Surveys
Surveys are the backbone of these rewards programs, and InboxDollars is no different. In fact, it is easily the most prominent money method.
I'm not gonna lie, these do pay good for surveys- which tells you how useless surveys are in general, in my opinion.
I hate answering surveys, so you'd think being paid would make it easier. Well, it doesn't, considering you only get paid a quarter for most. The occasional 50 cents and even $2 pops up sometimes.
That picture up there is the only time you're guaranteed to have surveys available, the time in question being when you sign up. That's not including the times when you spend 20 minutes doing a survey only to find you don't qualify.
Games
One of my main interests in life in games. I've been playing for years and I don't think I'll ever stop. So naturally I tried out the games first.
What a letdown for me! The only notable games were Tetris and Solitaire! All the rest are generic computer/board games that you'd find installed on your PC for free.
That could be a good thing! A lot of people are casual gamers who play these anyway, so they'd be happy to play it for money. Sadly, this is the most time-consuming method to earn.
Oh, there's also casino games, if you're into gambling. But it's pay to play, like real life, of course.
Offers

Offers were confusing to me at first. They're basically… well, offers from 3rd parties to do something like sign up or take survey or whatever.
As you can see, some of these pay a fortune (relatively speaking), but of course there's a caveat, like having to buy a product. The high-paying ones all involve spending money.
The free ones are the low-paying ones. Because why not? These pay up to $3 (not always).
Videos
You can sit back and watch a video! These are mostly sponsored content. How else are you supposed to get paid for them?
Just like the real world, though, you get what you work for, and watching isn't working. So naturally you can expect 1 to 2 cents per video. Yes, I just wrote that.
Tasks & Coupons
Tasks are basically small chores. You could be categorizing content, labeling content, or finding answers. They only pay between $0.01 to $0.20, and aren't always available to do. In short, they suck.
InboxDollars also gives you coupons to redeem. I gotta say, these are kinda useful. You can actually save money when shopping. The downside is, you have to buy something to redeem a coupon. And you only get 10 cents for every coupon.
Search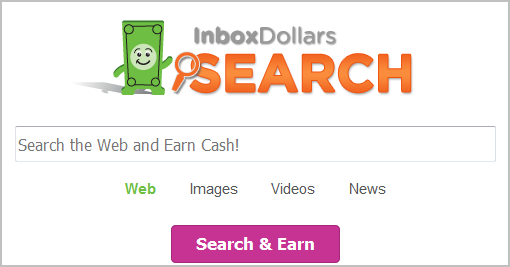 For every 2 times you use the InboxDollars search engine, you get a penny ($0.01). You're allowed 15 cents a day using this method.
I don't like to use other search engines, but this is quite an easy way to make a penny or two.
Is InboxDollars Worth It?
---
With rewards programs like InboxDollars, the answer to this depends on how much time and effort you want to put in, and if you like being paid so little.
I would say that it depends on what you expect out of the program. Are you expecting a full-time job? That's not happening. A side-job? Equally impossible. $30 every few weeks/months? That's more like it.
Even without money in mind, do you have the patience to fill out 20 minute surveys (for 20 cents) only to find you don't qualify? The surveys are notoriously picky about qualification. Or play time-consuming games? Or redeem coupons for a dime?
When you finally get to 30 bucks, you'll be paid by check. I personally prefer PayPal, and according to connexity.com, it's second only to Visa and MasterCard in terms of payment popularity. So only having checks is a bummer.
All in all, InboxDollars is at it's best when it's a simple distraction. I highly recommend not sinking hours into it. If you have a lot of time to spend online in search of income, there are way better places to look.
The InboxDollars Verdict
---
I've noticed many complaints online calling InboxDollars a scam, saying they pay too little, and the minimum payment is too high.
Still, the truth is InboxDollars is a legit way to earn money. It's only a scam if you take it for more than what it is.
However, in the words of my friend Frank, InboxDollars should be called "InboxPennies" instead, since that's a more accurate description of what you're getting.
If you love rewards programs, I would direct you to Swagbucks, which is honestly more rewarding (again, relatively speaking). Their rewards are much more enticing, and the payout system is more robust.
I have to give credit for the mascot though. Billy is my favorite dollar bill!
Let's be honest: if you wanna make money online, you want to make real money, right? Not pennies or the occasional dollar.
If you want to know the best way to make a full living online, I heavily recommend taking a look at my Super Program, which is free and guaranteed to get you on the path to success. It's not Super for nothing!
Got any questions? What do you think of InboxDollars? Is it worth your time? Did you get to the $30 threshold? Leave answer (or question) in the comments below!
Your pardner in pennies,
-Makki
Save
Save
Save
Save
Save
Save
Save
The following two tabs change content below.