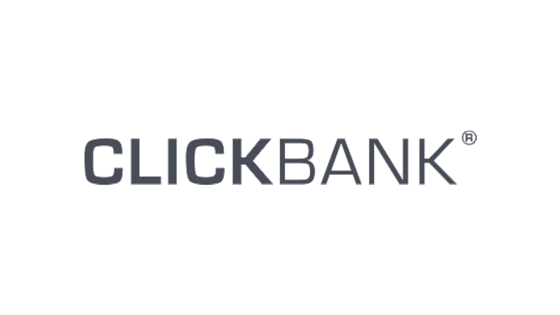 In the crazy world of affiliate marketing, there is one constant: you need products to market. Otherwise you're just an affiliate…
Now, while there are lots of ways to find affiliate programs out there, the best method in my humble opinion is to use a marketplace, which is where numerous vendors post their products to promote.  And I'm gonna show you how to use the Clickbank marketplace, the biggest and most profitable one there is!
Hold Up, Bub! What's ClickBank?
Oh yeah, I guess I should introduce ClickBank. It's a writing thing. You have to set something up first before explaining it.
What is ClickBank?
---
ClickBank is, quite simply, a place where vendors, or digital content creators, are able to show off their digital goods to affiliate marketers. All you have to do is choose something.
While it's not the only affiliate marketplace (JVZoo is a notable rival), ClickBank is by far the biggest, and to some, the most profitable.
If you're looking to promote some products on your website, ClickBank is a great place to look. And I'm not just saying that because I'm writing an article about it. OK, that's part of the reason.
You find products in nearly every niche, so no matter what your site is about, you will find something.
Now that that's taken care of, let's delve (dive?) into the marketplace, and see what we'll find!
The Marketplace
---
ClickBank's marketplace is of course where you find products to promote.
When you log in (create your account here), you'll get to the marketplace (is that word starting to sound weird?).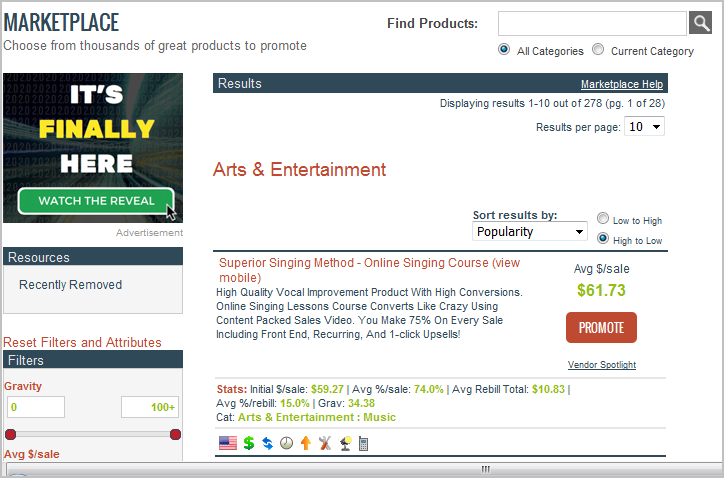 This is but a snapshot of what the marketplace looks like. It's actually kinda uselessly broad. I literally put it there for aesthetic purposes. Why am I telling you this again?
There's a lot to cover, but the first thing I'd like you to notice is the category. This shot was taken in the Arts & Entertainment category, which is my favorite one. But if you scroll down, you'll see the wealth of choices they have!
That's a lot, huh? Betting, cooking, jobs, games…even spiritual stuff makes the cut. This is one of the reasons why the site is so popular; it has something for everyone, no matter the niche.
This was long enough that I cut off most of it. I care about user experience more than hyping. You can quote me on that.
But enough about categories. Now let's see listing to promote!
Product Listing Example
Many people are often confused by the listing format at ClickBank. I don't blame them. I was totally lost my first time around.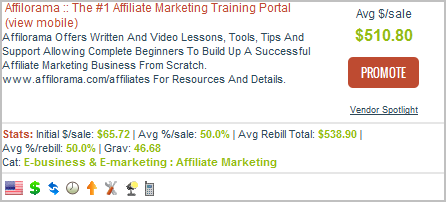 Hey look, it's the upsell-laden Affilorama! I did a pretty good (totally unbiased here) review of Affilorama, and while it's certainly not #1 (ahem), it's really not half-bad.
…Anyway, take a gander at all those stats! The first one on the list is the initial $/sale. This little number is simply how much you would earn for each successful sale of Affilorama. In this case, $65. That's not too bad! This is an average though, so the actual number could change.
The Avg Rebill Total and Avg %/rebill go hand in hand. Since Affilorama offers subscription memberships, it gets this stat. The Total is, well, the total of how much the affiliate makes on each sale. So basically, every time you get someone to sign up to Affilorama, you will earn $538 over time. The Avg % shows the percentage earned on each recurring payment. You get 50% in this case.
The highlight is the Avg $/sale. This is how much you earn from one customer after all is said and done. So once a customer is done with Affilorama, you'll most likely have earned $510. The Avg %/sale is the percentage earned altogether. So you would earn 50% on a customer in the end.
The last one is Gravity. This is a crucial stat that's often misunderstood. The following is a description taken from ClickBank's website:
In other words, the higher the Gravity, the 'hotter' products are and the more likely they are to sell. Affilorama's 46 Gravity is mediocre (some affiliates look for 300), but a higher score means more competition.
The twist here is that Affilorama is actually in a good range. It doesn't have a lot of competition. The higher scores are often hyped up products that fizzle out after launch. You'll have an easier time selling Affilorama than bigger products.
I wouldn't look into Gravity very much. Focusing on it is a foolhardy tactic, especially for newcomers. You'll be outclassed by the bigger fish in the affiliate sea.
See those little icons down below? They stand for various aspects of the product. Besides the obvious flag=language, there are some useful ones:
Affilorama has both single-sale and recurring billing products. Cool! It also has upsells. Yuck. Disgusting. Garbage.
As you can see from this single listing, you can earn hundreds just from one sale. That's a good reason to use ClickBank.
Now that you know the basics, you have to promote the product.
Promoting the Product
---
You just click the big ol' "Promote" button and enter your username. That gives you a Hoplink. That's it, really.
ClickBank uses Hoplinks, which are just affiliate links with a different name.
Since many affiliate programs require emails and signing up and stuff, the ease of getting a link in ClickBank is another reason why it's so popular.
Once you have a link, you're gonna have to do your own thing, whether that's on social media, your website (don't have one?), or email.
You need to accept that unless you already have a presence/following online, it's gonna be hard to promote any ClickBank product. If you don't know where to start, I can help you out right here.
ClickBank Tips
---
When browsing for products, it's important to keep a few things in mind.
First is the price of the product. You don't wanna be promoting $800 items. Those are hard to sell. Remember our case study up there? Affilorama's base membership is $67 monthly. While I don't think that's worth it, it certainly is an affordable price. Reasonable prices are the best prices.
Next, I'd advise you to do at least a little research on the product. I reviewed Affilorama before, so I know enough to form an opinion on it. Despite the presence of better competitors, I would still sell it, since I know it's a legit, useful service.
That brings me to the next point. Unfortunately, ClickBank has a reputation for… scammy products. Many are overhyped, over-exaggerated, get-rich-quick schemes. Not really full-blown scams, but definitely misleading. Some people frown on ClickBank for this reason, and they have good reason to.
The fact that most listings are digital doesn't help matters, either.
Luckily, ClickBank will refund customers in most cases, whether the vendor wants to or not. Their payment and customer service is superb.
The point is, do a little research, read reviews (like mine!), and then decide.
High-Commission Corner! ClickBank's Efficacy!
---
I'm certainly no ClickBank expert, but I would say this info is enough to get you started.
All in all, I would at least try out ClickBank if I hadn't already. It's a legit moneymaker with a huge variety of marketable products.
Well, if you have the know-how, of course. Affiliate marketing can be a tough nut to crack. Maybe even harder than the macadamia nut. But rest assured, any serious affiliate will find themselves using it at least once. It's certainly worth a try.
While ClickBank is an effective program/marketplace, it doesn't teach you everything about affiliate marketing. Or website design and creation. Or getting traffic to click your links. Have no fear though!
My #1 super-program, Wealthy Affiliate, is what you need if you're getting started in affiliate marketing and want to take advantage of marketplaces like Clickbank. It provides step-by-step training and even lets you sign up and create 2 websites all for free!
Thanks for reading this guide of mine! Have you used ClickBank before? What was your experience? Do you have any questions about the marketplace? Leave an answer in the comments below!
Your mate in marketplaces,
-Makki
Save
Save
Save
Save
Save
The following two tabs change content below.