Are you receiving a lot of spam comments on your website? I do. If you have a blog, you've probably experienced this problem before and it can be an issue if you don't know how to prevent or minimize it. The good news is comment spam is not t00 hard to deal with when you have the proper resources and knowledge on how to prevent it. Here are a few ways to effectively prevent comment spam in your WordPress blog.
The best way to combat comment spam in your WordPress blog is using anti-spam plugins. These plugins are the most convenient solution, and the best weapon you can have to prevent against comment spam. A useful guide by SKT Themes recommends using Akismet:
Use Anti-Spam Plugins

You can stop spammers from posting spam comments on your site just by installing the best anti-spam plugin on your WordPress site. You can strengthen the security of the site and keep the spammers away from attacking your site.

Although there are tons of anti-spam plugins, Akismet is considered to be the best solution that lets you check your comments against Akismet Web Service to determine whether your site contains spam comments or not. The plugin allows you to identify spam comments before they reach your site in real time.

Note: Akismet comes pre-installed with both free WordPress themes as well as paid themes. It means you just need to activate it on your site to automatically detect spam comments on your site. Via sktthemes.net
Akismet is probably the easiest solution for many, but there are countless competitors. Personally, I use WP Spamshield.
The next step in preventing comment spam is turning on comment moderation. Many bloggers do this by default, but others let any comment through without reviewing it. Not reviewing comments is unwise when it's so easy to enable moderation. The WordPress admin area allows you to moderate that you would be published on your website. WordPress' built-in moderation is discussed further in this WP Explorer article:
Moderate Comments

While comment spam is unavoidable, there is good news. You can combat this blight by moderating your comments and utilizing WordPress' built-in tools.

First, make sure that you have turned on comment moderation. Doing so enables you to approve any comment before it posts to your site. If you don't have time to review every single comment, you can set parameters based on several factors. For example, you can:

Flag a comment as spam based on the number of links it has.
Blacklist commenters in reaction to previous spam.
Disable trackbacks and pingbacks.
Only allow registered users to post comments. h/t wpexplorer.com
Moderating the comments is a great solution for stopping comment spam, but it has it's downsides. The less time you devote to moderation, the slower the discussion gets. So if you want to enable this setting, make sure that you check the moderate comments often.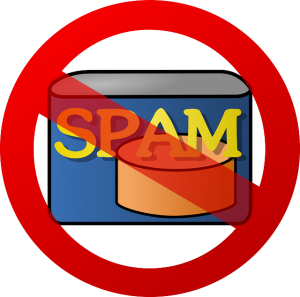 Lastly, keep WordPress updated to the latest version. This is the easiest way to prevent comment spam in your WordPress blog and also increase security in your website. WordPress updates often contain anti-spam measures:
Keep WordPress Up-to-date

There are several measures that you can take to prevent malicious comment getting into your site.

Make sure that your WordPress application is updated to the latest stable version. Detailed instructions regarding the WordPress update can be found in our tutorial. Each WordPress udpate includes a variety of patches, security fixes and new features. Often, there are anti-spam measures added to the core to prevent spam from getting in. Read more at siteground.com
Updating your WordPress to the latest version also allows your website to be secured as much as possible since each update includes security fixes and new features.
How do you keep yourself safe from comment spam? Leave your answer in comments below! (No spam though)
The following two tabs change content below.