Making Money with WA
Whenever a hopeful entrepreneur enter the world of internet marketing, their main concern is when they start earning. Every program they buy must get them closer to their goals, even if there's a bit of exaggeration in the advertising.
Thanks to 'get-rich-quick' products littering the marketing realm, many have the idea that anything they buy has to make them money right away (if only….).
This mentality extends to programs like Wealthy Affiliate, a well-known affiliate marketing program that's generated a lot of buzz, both good and bad, in recent years.
As a member of WA for some time now, I've noticed that the most common question anyone will ask is how fast they can make money with it, a matter I'll shed some light on here.
I've already gone in-depth as to what Wealthy Affiliate is all about in my review, so you can read that for a complete rundown of its many features.
How Do You Earn Money in WA?
Wealthy Affiliate is a training program first and foremost. It provides in-depth courses on setting up WordPress sites and growing them till they earn revenue. That said, they do have a well-paying affiliate program, which is the reason most of the "how fast?" questions are a thing.
The training also teaches how to set up a regular affiliate site. Here, a blog is grown to acquire traffic in a specific niche, then use that traffic to sell products or programs.
The affiliate program provides a great source of income after a few successful sales, so naturally most members choose the WA promotion route.  Premium members even enjoy double commissions on their sales, making $22 a month per referral.
In short, WA trains beginners to build and grow strong affiliate sites, which can be used to either promote WA, or literally any other product imaginable.
So How Long Does It Take?
Naturally, this depends on the experience of the member. A veteran to the marketing scene will probably be able to make money pretty quickly, especially if they already have a website with decent traffic already.
However, the audience asking the question isn't very experienced. They're completely new, many having been sold the idea of instant income by so many sales pages. So for many, their journey ends when they find they have to start learning before even thinking of making money.
For the rest, it's when they see how long it can take to actually make decent income.
There's no getting around it: it's gonna take time.
There's no definitive answer for this, but I would say at least a few months. A new site takes time to start indexing on Google, and longer to start getting traffic. An affiliate site in particular needs a lot of traffic before it starts getting clicks and conversions.
I've seen members say they made sales within a week. Others within six months. Like any business, profit isn't instantaneous.
Anyone with the patience necessary can make an affiliate site succeed. The problem comes from the instant gratification that so many marketing products like to sell.
Is It Worth It?
This goes back to your goal. Are you looking for quick money? Or looking to learn to make money?
If you want a quick buck, I'd suggest you look at survey sites. The pennies they pay is what you can expect to make with no effort.
But if you wanna make an effort….
An affiliate site, no matter what product it's promoting, can become an important source of income for the owner. It may even become the main source of income. There's major potential here.
I'd say that WA is the best possible place for newcomers looking to realize some of that potential. The training is superb and the community is supportive. I won't say it's perfect, but it's really everything a rookie can ask for.
And to make things even more friendly for newbies to the internet scene, domain registration and hosting are included with membership. It really is a one-stop shop.
If you've already had some success in the marketing scene, the affiliate program is a great way to earn money, and meet other entrepreneurs.
The site offers a week of the premium membership free. It's worth a try. You'll be able to enjoy the following features: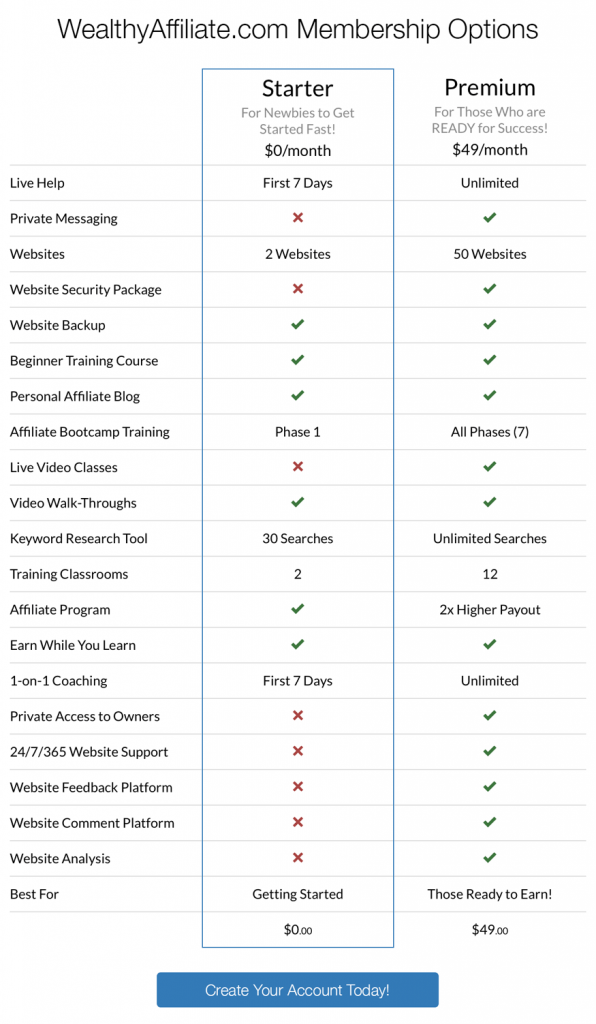 The reason most members don't make it in WA is not because the program is a "scam," but because they aren't willing to take the time to learn.
Once you accept that you just have to keep moving forward until you make a sale, the rest becomes easy. It's a matter of waiting.
If you have any questions, feel free to leave 'em in the comments.
The following two tabs change content below.