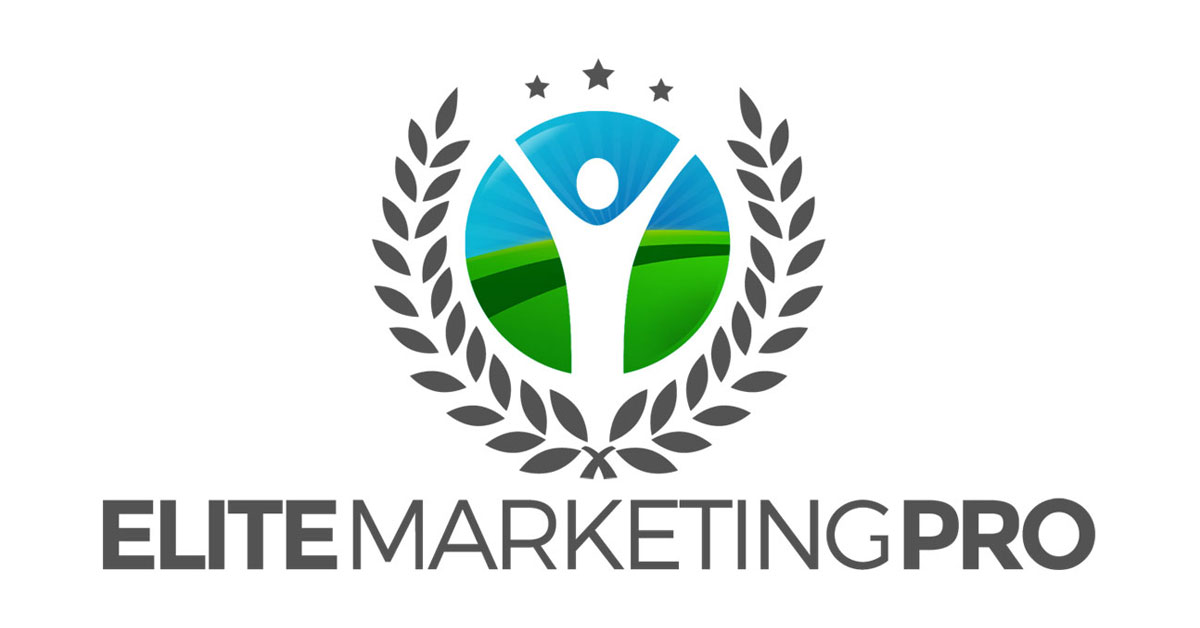 Elite Marketing Pro
Overall Score: 4/10
Founder: Tim Erway
Price: $1 Free Trial,  $37 or $47 per month, plus upsells (up to $2,997 for VIP)
Website: elitemarketingpro.com
It's time for another review, everyone. I recently got asked about Elite Marketing Pro, and decided to review it. Is this your stereotypical MLM scam? Time to find out!
What is Elite Marketing Pro?
---
I know I said MLM in the prologue, but from what I've seen of Elite Marketing Pro, it's kinda in a grey area. I still call it an MLM though, because it has all the characteristics of one.
Basically, Elite Marketing Pro (EMP) is an internet marketing program designed to make you money by promoting it after buying it.
You probably know that, since I just described the aim of every internet marketing MLM scheme ever!
Anyway, EMP teaches you about online business, So that would cover website creation, email marketing, lead generation, all that kinda stuff. In theory, that's a good thing.
In reality, the prices for this training are highly inflated and exploitative, so it's not a good thing. It's a bad thing for sure.
EMP was launched in 2013 by Tim Erway, an internet marketing mainstay and, yes, known guru. That means there's some history behind the program.
My review will tell you all you need to know about EMP, and whether it can truly help you make money online (It won't, but bear with me here!).
What's the Good News, Bub?
---
Like most MLMs (or pseudo-MLMs), EMP isn't a totally worthless program. It does have a few upsides, you see.
The most important thing is that their affiliate program is free. Yes folks, we've come to the point where an affiliate program being free is an advantage instead of a standard.
Imagine a world where health care being free is a privilege, instead of a basic right. Oh wait, that's our world! Silly me, with my misplaced analogy.
They also offer 30-day refunds, which is very appreciated. The refund for the $3,000 VIP membership (see below) has a very conditional return policy, but we can just say most of the items can be returned.
Now, the training itself is actually better than most MLMs I've come across. Or at least, it looks better. They teach standard marketing techniques, along with aspects like email marketing, traffic generation, and website design. It's not the worst training out there.
There are also webinars, and automated, "done for you" systems. Keep in mind, I'm talking about the full training here. Not the free scraps they give you.
Oh, and just like most MLMs, the commissions are pretty high, which explains the sheer amount of shills there are out there.
That's actually all I can manage to say for EMP. Let's move on… to the bad news!
The Bad News
---
Yay! I love complaining, and MLMs make it so easy!
Anyway, as with most programs of this ilk, the full training is very expensive. It's not MOBE or Six Figure Mentors level expensive, of course, but with upsells reaching $3,000 (it's sad that this is considered low) you can expect to pay a pretty penny.
The prices actually start low. But like most MLMs (that phrase could be used in a drinking game), these small prices are traps. What was once $47 slowly turns into $997, then $3000!
This wouldn't be so bad if you didn't have to buy every product to be able to promote it. The standard affiliate program is free, but you can't make money with that. But that's the nature of MLM programs, to promote themselves into infinity by making customers buy and promote their wares.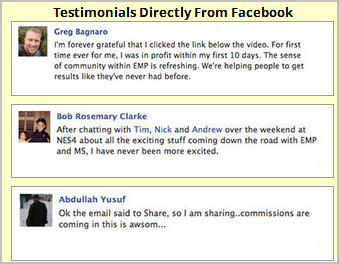 MLM clichés aside, the thing I hate the most about EMP is its vagueness. They're about as clear as the air in Beijing. I just could not figure out the difference between the memberships and levels of products. For a while, at least. Back to the clichés we go!
Actually, I'm gonna stay on that point. the ambiguity of EMP is terrible. The prices of the products at EMP are different than those at EMP VIP… and "values" are thrown around randomly.
I've harped on the membership thing enough for one section. It's not enough for the review though, so let's dedicate a whole section to it!
The EMP Memberships
---
EMP doesn't have matrices or any of those incredibly complicated models, but as I said before, it is kinda complex in its membership offerings.
Basically, there are four membership levels (excluding upsell products): the free one, the standard, the annual standard, and VIP. Here's a look at each one.
The Free Membership
I just wanna repeat I appreciate EMP for even including this. They could have made the affiliate program a monthly subscription, but they didn't. Instead they made it free, and ripped out any substance it might have had.
Maybe it's not that dramatic, but the free membership offers almost nothing. There's weekly free content, but it's mostly webinars focused on…
…..
Yep! Upgrading your membership! Didn't see that coming, did you?
They give you some banners, and an article on video creation. But that's pretty much it. You'll earn 20% commissions on free memberships, which honestly isn't that bad.
There's still the fact that you have to own a product to be able to get commissions on it, but that's apparently none of EMP's business, since they don't mention that at all.
Standard Membership ($1 Free Trial, $37 or $47/month)
Now here's an interesting pricing technique. Standard costs $47/month regularly, but if you don't take the $1 trial, it costs $37/month. That's…actually pretty shrewd. I'm legit impressed.
Too bad that's not everything. Standard frees up a lot more products. Check it out, yo:
Quite the spread. I gotta admit, this isn't totally worthless. There's no doubt some valuable training here.
The training videos are sleek and well-made, covering most aspects of online business, specifically internet marketing. But again, they're geared around promoting EMP. If you have a passion for learning Chinese, and wanna start a niche site around it, you're gonna have a bad time, because EMP is all about itself.
The website is the most important part of any online business (OK, most), and although EMP lets you create one, the options are limited. I use a website builder that's integrated with WordPress, which is so limitless that 25% of websites are made with it.
In standard, you earn 20% commission, the same as free for some reason. Well, there is a reason, and it has to do with the next membership.
Standard Annual Membership ($297)
If you decide you don't wanna pay $37/$47 monthly for the rest of your membership, you can pay 300 smackers for Standard Annual, which gets you 50% off.
Lemme just say it's unclear (of course) if the payment is one-time or yearly, but given that the vast majority of EMP's users most likely won't stay for long, it doesn't matter. EMP knows this, which is why it made the commission rate 40% on this level.
So you get 40% commissions on all products, and 100% commissions on the Attraction Marketing eBook, which costs $47. You also get 80% commission ($120) on every sale of Standard Annual itself.
Other than that, this is just Standard. Literally.
Elite Marketing Pro VIP ($2,997)
This is the top of the mountain, folks. VIP basically gives you all the products in one fell swoop, while at the same time giving you 100% commissions on everything.
Having 100% commissions is pretty big. I was wondering why they would do that, but the obvious answer is that the 3000 bucks spent on VIP will give EMP a lot more than the commissions are worth. That's just an indirect way of saying they know most people can't get sales.
Anyway, here are some products VIP unlocks for you.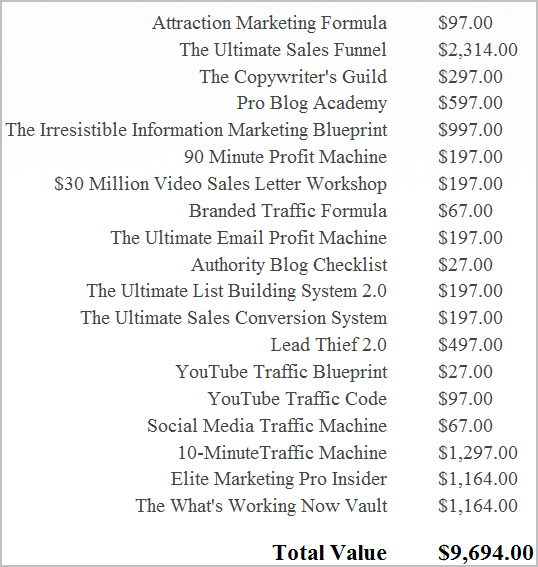 That's a lot. Imagine having to pay for all those to promote them. Wait, you do have to pay for all those. VIP just takes a sum it knows you won't pay and shrinks it.
Notice that Attraction Marketing Formula is $97 here. That can't be right, since I just said that it's $47. I didn't make that up, no sir. I found it right on the EMP website.
That goes for most items up there too. These are the upsells EMP makes you buy to promote…so to make it easier to afford them all, it combined them all into one.
There's another set of bonuses, which aren't products.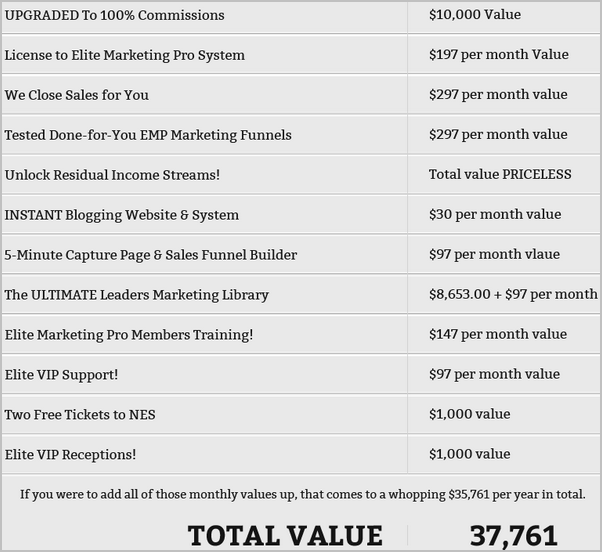 Whoa, that's a lot of value. 37 grand a year for only 3 grand.
Come on, do you really believe the random values here? Apparently 100% commissions are worth $10,000. I know 100% is rare in affiliate marketing, but it is definitely not worth 10 grand.
VIP is marketed as a "done for you" system, which is bad news since Google hates duplicate content now.
Oh, and you'll see that support is worth $97 a month to them. I guess that means non-VIPs don't get support? The support also includes contact with the "team leader." It's not clear (no surprise there) who the leader is, but I'm guessing the owner, Tim Erway.
You'll also notice the tickets and receptions. These guru schemes always focus on vacations for some reason. Why? Is premature celebration a good thing? You should be vacationing with money you earned from your online business, not spent on it!
I should mention that VIP is refundable, but only if you

Yeah, you have to have spent $300 in ads before getting a refund!
Murky Marketing! The EMP Verdict
---
I wouldn't say Elite Marketing Pro is a scam. A master marketer could do great things with it. And I gotta give credit where it's due: EMP is a lot better than other MLM programs.
It has a free affiliate program (I can't believe this is a plus), and a $1 free trial, which is always a bonus. It offers refunds, along with some quality training.
But EMP being better than other MLMs is like a 2nd degree burn being better than a 3rd degree burn; both are painful and leave scars. Hmm… maybe that's not the best description…
That's beside the point. EMP may be cheaper than scams like Empower Network and Digital Altitude, but it doesn't excuse the fact that the training is built around promoting itself. And you have to buy an item to promote it.
Why should a rookie have to spend upwards of $3000 on training? Aren't they, I dunno, rookies who don't know how to generate traffic? The VIP membership would be worthless to them. Yet they're the ones being targeted.

The VIP membership sales page goes into detail about Tim Erway's backstory and rise to the top. He describes how hard it was, all the time and sacrifice needed… only to say you can skip all that for 3 grand!
Believe me, throwing money at a program will never make you successful. Tim Erway may own an unethical company, but his story is one that nearly everyone (internet marketing or not) faces when building a business.
EMP does some things different, but at the end of the day it's just another overpriced MLM scheme.
A Better Choice
Let's face it, you're here because you want to make money online. You probably want an online business. EMP most likely won't give you that, but I can direct you to something that can.
See, I used to think upsells and overpriced sales funnels were the basics of affiliate marketing. Now, I realize how wrong I was to buy into overhyped, get-rich-quick, done-for-you programs, and it's all thanks to my #1 Super program, Wealthy Affiliate.
When I entered WA, I was given 2 WordPress websites for free. Yeah, already they were a better deal than EMP. I could do what I wanted with them to, from promoting cat food to bike helmets. I got access to all the training I could ever need on affiliate marketing, and it was all for almost 1% of what EMP VIP costs.
Give it a try. The free trial alone is worth more than all of EMP.
What do you think of EMP? Is it as bad as I think? Leave a question or comment below!
Your amigo in ambiguity,
-Makki
Save
Save
Save
Save
Save
The following two tabs change content below.