Digital Altitude
Overall Score: 1/10
Founder: Michael Force
Price: $1 Free Trial, $17 + $37/$67/$127 per month + upsells (up to $27,997)
Website: www.digitalaltitude.co
Hey there! It's Makki here again with another review of an MLM program. Is this one legit, or is it a pyramid-shaped trap? Time to investigate!
What is Digital Altitude?
---
Not too long ago, I reviewed MOBE, an MLM scam. I was quite certain that it was the worst pyramid scheme I'd ever come across… until now.
A while back, I saw an ad for "Digital Altitude" on social media and upon further research I have come to the conclusion that DA is almost as bad as MOBE is.
Put simply, Digital Altitude is yet another "get rich quick" training course. You know the kind by now: overhyped and overpriced, with fancy names and focus on recruitment.
These types of schemes are nothing new, and DA promises the same kind of results as you'd expect at this point.
DA was founded by Michael Force, an retired Marine who used to be involved with the now-infamous Empower Network, and the aforementioned MOBE. With such a portfolio, it was only matter of time before he made a scam program of his own.
It looks like Mike Force was impressed by MOBE especially, because I can't help but notice how they're almost the same.
DA is a way to make money by convincing innocent people to sign up for the scam of a lifetime, and I'll show you why in this review.
What's the Good News, Bub?
---
I've said it before, and I'll repeat it here. No matter how bad a program is, there's always something positive about it.
Above all else, they give you a $1 trial. It's a worthless preview, but the fact that it exists is a plus.
Also, DA offers a 3-day refund on its products. It's not perfect, but compared to MOBE and other MLM scams, it's a godsend.
In DA's case, it's that the training is…alright. They can't make you spend thousands of dollars to get nothing, so there has to be some value, if hyperinflated.
You're bound to learn at least something from the training, which covers online business. You know, stuff like traffic, websites, motivation… all that jazz. Especially the motivation. You'll find out why soon enough.
Of course, considering that the training's endgame is promoting DA, you won't learn all that you could be learning if you use literally anything else.
Sure, if you're a marketing veteran, you could make some money off DA, assuming you started before the pyramid was set up.
That's all the good news I can reach for.  Time for the bad news!
The Bad News
---
As with any high-ticket MLM programs, DA has no shortage of negatives. I've said it before, this is just MOBE's little brother.
The number one thing I have to mention is of course the fact that you have to pay to be an affiliate ($17/month, and that's the minimum). As we all know, having to pay for an affiliate program is a sign of a scam.
It goes against all reason. Why should I have to pay anything to promote a product? Does the NHL pay Coca-Cola 5 million dollars to broadcast a Coke commercial during the Superbowl? No, they don't. Coca-Cola does the paying.
Now, you know this by know, but DA's products upsells are extremely expensive. Starting from $600 and reaching $28,000 is no small feat. Online businesses, and affiliate marketing in particular, do NOT need anywhere near that sort of cash.
There's also the fact that you have to buy those overpriced products to promote them. I don't have to say how unethical this practice is. It's a blatant sign of a pyramid scheme.
When you join DA, you get assigned a coach, who's supposed to help you run your business. He/She is really there to convince you to pay more. I've been on the receiving end of "coaches" like these, and while some might be nice people, their goal is to squeeze money out of you.
The coaches have another role, though, and that's to close sales. Yes, DA prides itself on you not having to seal the deal. You just get a lead. But what DA 'forgets' to mention is that having a coach close a sale means you get less commission. Just dishonest marketing.
I could go on and on, but the rest will be covered in the memberships section. Let's go!
The Digital Altitude Memberships
---
Oh boy… I always get woozy when looking at high-ticket MLM products. Seeing people pay the equivalent of a house (in some countries) on a phony marketing program is despicable.
Anyway, DA has an affiliate program (or Aspire), and the higher memberships. They're named around a mountaineering theme, which I like. First up is the affiliate program.
Aspire (Affiliate Program)
Alright, as I told you up there, being an Aspire member costs $17 a month. That right there is pathetic, but you have to pay even more if you're serious!
There are three additional tiers of membership, you see:
Aspire Walker: $37/month  (40% commission)
Aspire Hiker: $67/month (50% commission)
Aspire Climber: $127/month (60% commission)
Keep in mind those costs add to the $17, so Climber costs $144/month effectively. What a joke. This all so you have the honor of promoting it. Affiliate programs should be free. End of story.
If you want to make real money, you need Climber. There's no way around it. I'm serious. If you're a Walker (insert Walking Dead reference here), and you successfully recruit someone who decides to buy Hiker… well, you missed out. You can only get commissions from your tier and under.
I'd like to say this is the end, but it's just the beginning. Here are the 5 higher memberships (all are one-time payments):
Base Membership: $595
We're starting the list off with a bang, as the Base membership sets you back 600 bucks. This is a motivational (see the Good News) video training course, made up of 12 modules across 3 sections.
The modules are lame. Even if they're good, they're lame, because you don't buy a Big Mac for $200 and still say it tasted good. You get mad at being cheated.
Base covers  preparing, launching, and growing an online business, which is a giveaway that it's just an upsell because you could never fit that much info in 12 videos.  Plus, the some topics are just-

…yeah. This MLM stuff can get pretty trippy.
Rise Membership: $1,997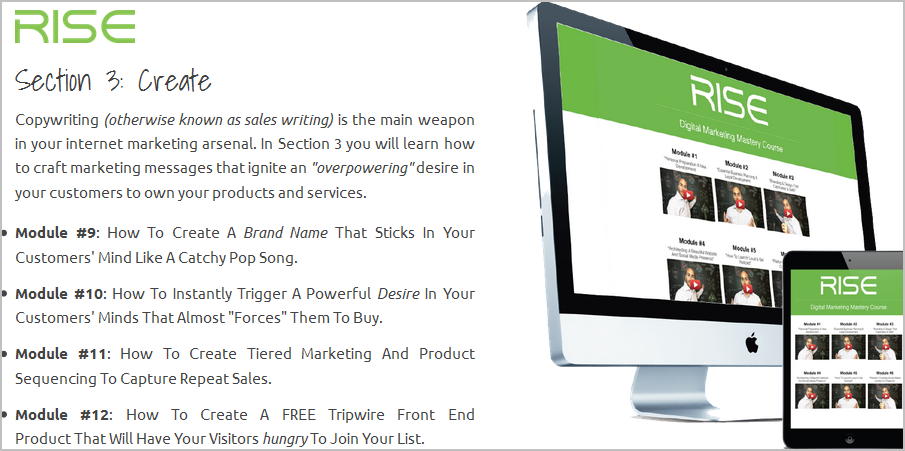 I hope you enjoyed the Base format, because Rise is also a video course consisting of 19 modules across 5 sections (turn it up!):
Commit
Customer
Create
Words
Partners
You get to see modules like this gem:
Considering that you can watch thousands of videos on this topic for free on YouTube, it's a mystery why DA chose to charge 2000 smackers for it. Besides being total ripoffs, of course.
I'm not gonna say the training is useless, but the price it makes it that way, regardless of quality. So I guess I am saying it. Hmm.
Ascend Membership: $9,997
Well, we're starting to get into the big bucks (in case the previous two weren't big enough), and it's time to ditch the videos for… a vacation?
Yep, you're supposed to spend $10K for a 3-day stay at a Las Vegas resort. It covers 2 people, not that it helps things in anyway.
I could fly to Vegas from Western Canada, right now, for about $500. If I splurged like a maniac in my hotel, I might get to the $2000 area, after 3 days. But $10,000? That means like, $5000 goes to DA. The hell with that, I'd just crash the retreat!
If you're starting a business, why do you even need a retreat? Shouldn't you have, I don't know, earned a vacation first? 3 days of fine wine and decadence seems a little premature.
Anyway, they do teach you stuff over the 3 days. Big important stuff, as you see above. How to master video… that's something you cover in one day, all right. Easily worth $10K… NOT!
You can type any of these topics into Google and come up with thousands of articles, videos, and blogs. For the grand price of $0.
Peak Membership: $16,997
I hope you like traveling, because we're going on another vacation. This is a 5(!) day retreat, again for 2 people, that covers 20 topics ranging from accounting to hiring.
Now, I hate university and it's overpriced, slow-to-adapt courses, but they have a point when it takes a few years to cover a degree in accounting and hiring. Yet here comes DA saying you can learn all that in a few days?
Look at those topics. "6 Strategies for Awesome Accounting?" Is the vacation on Buzzfeed.com? Is this the sort of thing you pay 17 grand for?
Spoiler alert: it really isn't. You simply can't cover everything that DA say it can cover in 5 days, especially considering you'll also be relaxing at the beach or being wined and dined.
Apex Membership: $27,997(!)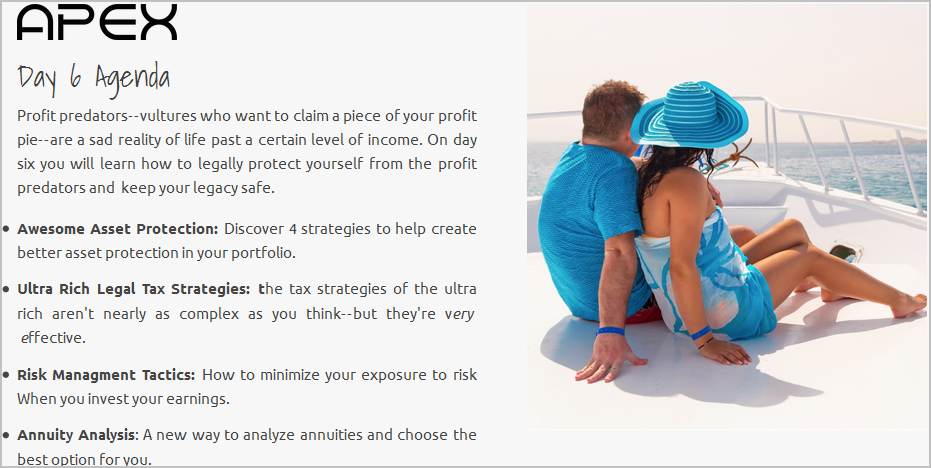 Here we are, ladies and gents! The main event. The king of all upsells. The Apex membership.
Surprise! It's another vacation! A 7-day retreat for two! At Las Vegas! And for only $28,000! How luxurious.
You'll cover 28 topics over the week, ranging from investing to taxes. But at this point, you really have to ask yourself what the point is of all this, besides owning Apex.
Give me a break. This is sick. Why are vacations something to brag about? Shouldn't you take a week-long retreat after making money with your business? It's like buying yourself a chocolate cake to celebrate starting your diet… and then stopping your diet.
Personally, I don't see how anyone could be happy relaxing before working, but the temptation of a dream is strong. That 28 grand could buy a house, or a car, or take you around the world multiple times.
Come to think of it, there was another MLM that I reviewed with super expensive, premature retreats. I wonder what it could be?
Now that we've gotten to the top of the pyramid mountain, we can determine that owning everything ('cause you need to own it to promote it) costs approximately $58,000!
And in the occasion that a member you refer goes higher than you are… you just missed a big payday. For instance, if I referred my friend Stefan into DA, and I'm "only" at Peak, I won't get the $16,000 commission! Never change, MLMs.
Monetary Mountain! The Digital Altitude Verdict
---
I've said many things about Digital Altitude, but the one thing that I can't argue about is its high commissions, which are probably why there are so many affiliates promoting it now.
Rest assured, DA is a relatively new program. They haven't released an income disclosure yet, and probably won't, but it's safe to say they'll collapse and go the way of Empower Network, where over 90% of members make next to nothing.
Those bogus videos DA prices so highly are the only reason it's a legal program. It's a pyramid scheme in everything but name.
I also have to mention one more time how eerily comparable this is to MOBE. The unimaginable costs, the luxurious retreat, and the fact that Michael Force actually used MOBE.
Actually, I will say that DA is a better, cheaper alternative to MOBE. It's like calling World War 1 a shorter, less deadly alternative to World War 2, but it's the truth.
I'm sure a master marketer would be able to get some referrals, but since DA markets itself to total rookies, the whole program is a money pit.
You know the reason people buy into stuff like DA? They're desperate. DA capitalizes on this desperation and promises way too much for a bank-breaking price.
I think I've more than made my case for DA being a waste of time.
A Better Alternative
You're probably here because you were interested in Digital Altitude and wanted some info on it. Sorry to say, DA is a dead end if you want to own an online business. Not to worry though, I have a better suggestion.
If you listen to DA, you'd think all online business is prohibitively cheap. I've heard some affiliates say the prices are justified since university is more expensive!
No, running an online business can be done with less than $50 a month, at the right place. I'm talking about my #1 Super Program, Wealthy Affiliate!
I used to fall for scams like DA, and get my hopes up for the magic bullet. There's no such thing, and throwing money like DA wants you to do is not a smart thing to do. That's why WA, a program that outright tells you it's not a get-rich-quick scheme, was the choice for me.
This is a program where you start for free, and are given 2 websites and access to a community of other entrepreneurs in training.  No credit card needed. And no, it's not an MLM or pyramid scheme. You can promote whatever you want in WA, and there's only one free and one paid membership. No upsells.
I don't blame you for thinking that though. The internet marketing industry has a bad reputation nowadays.
What do you think of DA? Is it a pyramid scheme in your opinion? Got any questions? Leave your thoughts in the comment section below!
Your mentor in MLMs,
-Makki
Save
Save
The following two tabs change content below.