Zero Hour Work Days
Overall Score: 1/10
Founder: Brendan Mace
Price:  $8.67 + Upsells (up to $900)
Website: zerohourworkdays.com 
Hey there readers! I recently came across a new program that launched just a few days ago. Naturally, I decided to look into it.  Is it a legit opportunity, or is Zero Hour Work Days a scam? Find out in the next section!
What is Zero Hour Work Days?
---
In the world of internet marketing, it seems a new get-rich-quick program pops up every day. That might even be true. But ignoring my attempted hyperbole, I can safely say we're onto a new one here.
Zero Hour Work Days (or ZHWD) is a passive income course that's supposed to make you $9,259.74/month. I know, that number is eerily exact, even for a get-rich-quick scheme.
ZHWD was created by Brendan Mace, a YouTuber in the "make money" niche. He's kinda popular, with about 25,000 subscribers. He's experienced, but that doesn't mean his product is what he hypes it up to be.
Speaking of hype, the sales page is full of it. It really tries to nail the "passive" part into your head.  We're talking claims of $9000/month for like 20 minutes of work a day. I mean, look at this:

All that "weird trick" spiel lost all its credibility when literally every weight loss scam ad started using it. This is just one of many examples.
This whole thing already sounds pretty shifty. Tons of money with almost no effort involved, all for $8.67? I don't think so.
Anyway, what exactly does ZHWD even do to get you loaded? How does it even work? All this and more… next!
Inside Zero Hour Work Days
---
If you took everything the sales page spews as fact, you'd think you would pay 8 bucks, watch a couple videos, and then copy paste some stuff. This is what all these too-good-to-be-true programs do. They make everything sound real easy.
Alright, so according to Brendan, the process is easy. So easy that it's only a few steps:
Make "money-grabbing" pages
"Copy and paste" campaigns
Unlimited traffic
It's as simple as that.
The truth is that what Brendan is describing is email marketing. He simply sends out emails to a bunch of people so that they'll open them and (hopefully) open the links inside.
I'm not doubting him here. This is a legit tactic and an extremely profitable business model… when you have you a bunch of people to send emails to. Otherwise known as an "email list."
The actual "secrets" come from the modules that form the course. There are 8 altogether: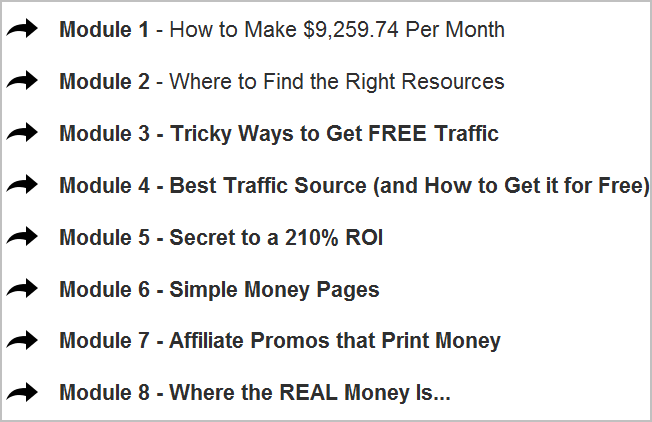 If you're familiar with these kinds of program, the modules will ring a few bells.
For one, it promises free ways to get traffic fast. I'll bet my hat most of those "ways" are posting on social media like Facebook. And that does work, if you know what you're doing. The people buying ZHWD would just post links on their personal accounts. That's selling to friends and family, not free traffic.
Then you have the landing pages ("simple money pages"). I don't know why, but gurus love pushing landing pages. Maybe it's because they're simple and easy to make. But mostly it's to convince rookies that you don't need a website to earn money.
That's a false assumption. While you don't always need a website,  the kind of people programs like ZHWD target really do. If they want the kind of money Brendan Mace makes, they absolutely do.
Finally there's the copy and pasting in Module 7. Lots of people assume this is a good thing, but for $8 you're not getting pre-written email campaigns. That's gonna be an upsell, as you'll see below.
The Upsells of ZHWD
---
I'm not gonna lie, ZHWD is pretty cheap. It's not very fair to bash a program that's less than 10 bucks. It's even "on sale," since the original price was apparently $197!
What is fair, though, is to bash it for actually being way more than 10 bucks. In essence, upsells.
I complain about upsells in nearly every review I write. I just hate the idea of charging a low price only to charge a higher one right after a sale. And boy, does ZHWD charge.
The product also uses downsells, which only activate if you refuse to buy the item. These are incredibly dishonest and usually not mentioned till after an offer is refused.
There are 3 upsells here, each with it's own downsell. Let me give you the skinny on 'em.
Copy and Paste Email Campaigns
This is something the sales page brags about, but it turns out this aspect of the program is locked behind an upsell. Basically, these copy and paste campaigns let you take pre-written emails and send them out instead of writing your own.
This upsell costs $37, but if you refuse to buy it, the price is reduced to $17. Not outrageous, but pretty pathetic.
Done for You Money Grabbing Pages
I called it. These are landing pages. The simplest ones you can make. Landing (or squeeze) pages are made to capture emails and add them to your list. However, having a landing page on its own is useless. It won't get traffic. ZHWD doesn't even mention that, but it's a problem beginners will face.
You can have your money grabbing pages for $67, but again, turning it down lowers the price to $37. Go figure.
Private Coaching
Exactly what the subheading says. This is personal help straight from Brendan Mace himself. That admittedly would be a useful thing, until you look at the price.
Coaching costs $897. Yeah, almost 900 smackers. That's ridiculous. Other programs let you get personal coaching (even from the owners!) for free.
If you turn down this upsell, the price will shrink to $197. Still a waste, and completely dishonest.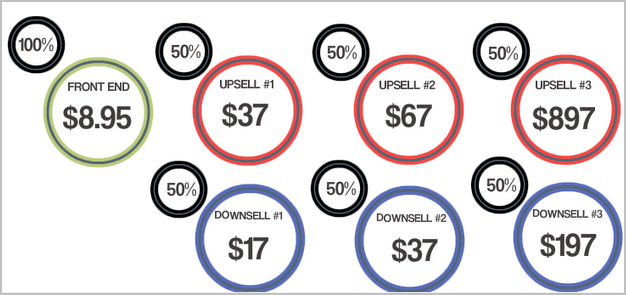 All in all, the full ZHWD package costs $1008! Even with downsells, it's $259.95, and that's if a poor buyer doesn't fall for the upsells right away.
Despite my hatred of them, upsells do work. Unfortunately, someone who's already bought the $8 product is more likely to spend more. It's psychology.
There's still no good reason to use them, though. Unless you like deception, of course. Don't even get me started on downsells. A pathetic way to squeeze as much as you can out of a customer.
Don't Buy Into the Hype
---
As I said before, the sales page for ZHWD is happy to stretch the truth, juuust until you spend the $8. If you're a rookie, it's all downhill from there as you fall for the upsells.
You can tell this is a bogus product because Mace spends a lot of his sales page (and video) bragging about his lifestyle. That just creates unrealistic expectations. He's spent years on this, and he's earned his vacations. Spending 8 bucks will not give anyone his experience.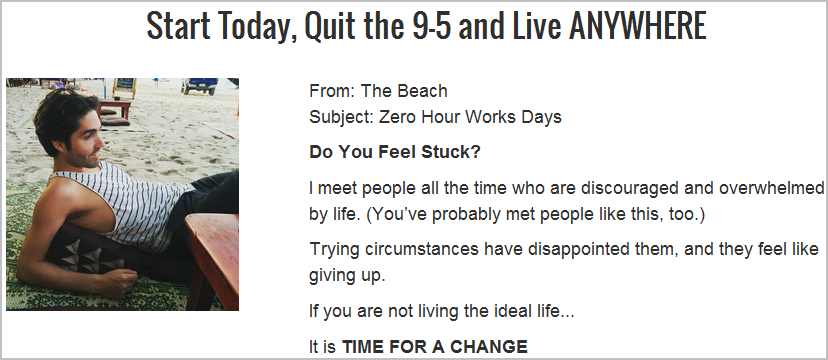 Plus, he makes things look way too easy. In one part he even says all he has to do is open his laptop and money flows in. Maybe at his level, but the hopefuls who buy this will never reach those heights with ZHWD.
To his credit, he does have video testimonials, but given that there's a whole "testimonials" category on Fiverr, I've learned to distrust them, and so should you.
So Is Zero Hour Work Days a Scam? The Verdict!
---
Much as I hate to say it, no. Zero Hour Work Days is not a scam.
Why would I say that after bashing it throughout the whole review?
Because it's still a product. Yeah, it's practically useless and just a front to push the upsells, but it's something.
I would think a total newbie would learn some useful info from this, but anyone with the slightest understanding of email marketing is wasting their time.
Plus, it only costs $8. For that price, you're allowed to lower your standards. And it even has a 30-day return policy, so you can at least get your money back.
Don't think this means I endorse it though. There is absolutely no way a beginner can make a reasonable amount of money with this. Or any amount of money, actually.
Brendan Mace's $9000 a month comes from years of experience, a following, and a huge list. It takes a long, long, time to earn a passive income online. It's not as simple as ZHWD makes it out to be.
A Better Choice
One thing ZHWD gets right is how fulfilling an online business can be. It really does become a "laptop" lifestyle… if you build it up the right way.
That's right, I said "build." None of these programs will make you money fast. Most of them won't make you money at all, because they know people will just move onto the next false promise.
But if you actually start and grow a website, and build trust with your readers, you'll be on the way to "$9,259.74."
A lot of people flinch when they hear the idea of a website brought up, because they think it's too technical and out of their league.
The good news is, it really isn't. As a matter of fact, my #1 Super Program gives you 2 full, free websites when you join up. And yes, joining up is also free. You don't even need a credit card!
So why not try it out? It's free and will give you a wealth of lessons and tutorials to have your own business set up. This covers all the tools and resources you'll ever need. The only thing you have to worry about is giving it your all.
What do you think of ZHWD? Is passive income really as easy as the sales page says it it? Got any questions? Leave a comment below!
Your pal in programs,
-Makki
Save
Save
Save
Save
The following two tabs change content below.