You wanna know what I hate the most about running a website? No, it's not the writing. Or the financial cost. It's SEO, or search engine optimization. Specifically, keyword research. It's such a creatively restraining, yet absolutely necessary reality of websites.
But with that said, it's no less worse! I still remember spending hours looking for decent keywords to use on my blog posts with so many rinky dink keyword tools. Looking back, these tools were very time-consuming.
Yep, I sure did dread the keyword research phase of any post. That was until I found Jaaxy, though! Jaaxy is the ultim-
Hey! What's so bad about those other keyword tools?
Yeah, yeah. A fair question. I'll tell you what's so bad about them… in the next section!
Troublesome (Keyword) Tools
---
There's one thing all keyword tools have in common: they're very technical. Too technical. It's often hard for a newbie to use one without getting lost.
But what's worse than not knowing how to use it, is having to PAY for it, and then be lost. And if it's anything like most useless products, refunds will not be available. That's why most paid keyword tools are not worth it.
I'll have to add that tools you have to install are troublesome to quite an extent. Keyword tools are supposed to be web based! Why should you install something that takes it's info from the web?
Wait, a lot of programs are like that. Disregard that last bit.
Anyway, not all sucky tools are paid. There's Google's free keyword tool, for example. Hey, that's good, right? Oh wait. No it's not.
Google's tool only takes Google results. Despite it's ubiquity, Google's search engine market share is about 66%. The other third is unaccounted for. That's why Google isn't ideal.
And keep this in mind; most keyword tools, free or not, rely on Google for data. So you're basically using reskinned versions of Google's keyword tool.
Basically, most tools aren't worth your time (or money!).
OK, What's So Great About Jaaxy?
---
Jaaxy has made my keyword research a snap. Hey, I'm not gonna say I like doing it now, but it did make things bearable.

Jaaxy works like any other keyword, but the value is in the information it gives. It only tells you what you need to know. No confusing bell 'n' whistles. Here's what I use in research:
How much traffic a keyword gets (Traffic)
Amount of competition a keyword has (QSR)
Keyword quality  (KQI)
Number of  monthly searches, obviously (Avg)
The last one is SEO. It's a ranking of your keyword. I'll show you down below.
You can probably guess that Jaaxy does all of those.  You'd be right.
Convinced yet? No? Actually, I don't blame you. This wouldn't convince me either. Let's keep going!
It's getting kinda hard to just tell you about Jaaxy. I'll show you instead!
Jaaxy in Action!
---
Alright, let's do this! I'm gonna show you how Jaaxy makes keyword research so easy.
I'll perform 2 searches in 2 different niches. I'll let you choose the niches! Comment below and I'll search it!
Ha! Just kidding! By time you read this I'll be done, silly. So I'll choose 2 of my interests.
Search #1: 'Dragon Ball'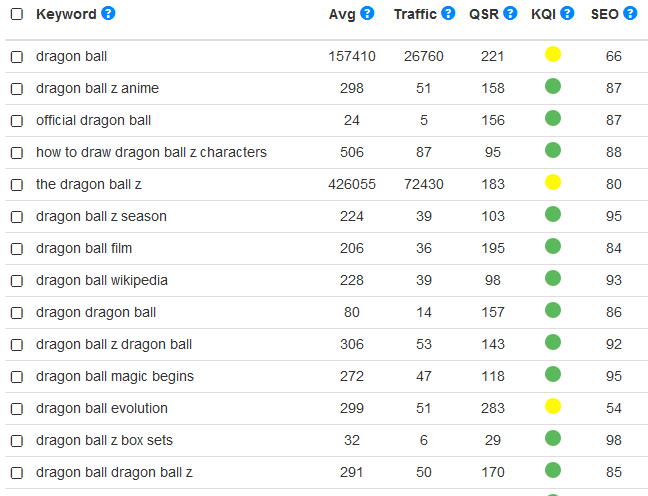 Dragon Ball is probably my favorite franchise. I love the characters, and the fight scenes, and the-
Oh yeah, the review! So you'll notice the various metrics I told you about earlier. The 'Avg.' column shows how many searches were performed for that keyword in a month. As you can see, 'dragon ball' is a popular keyword. Too popular, as matter of fact. I'm not gonna use that one. 'dragon ball z anime,' with 298 searches, is less competitive.
The 'traffic' column shows what how many visits to your website that you can expect using that keyword. So, a first page ranking for 'dragon ball z anime' will get me 51 visits. Pretty good, but I have to get to page 1 first!
QSR is possibly the most useful column. It shows me how many other websites use that exact keyword. In short, the competition. Using 'dragon ball z anime' again, we see that it's QSR is 158. That's actually great! Always aim for a QSR of 300 or less.
The Keyword Quality Indicator (KQI) simply gives you an idea of the quality of the keyword. Er, that's not a very good definition. Just look: 'dragon ball' is yellow. That means 'OK.' It makes sense due to how many searches it gets. Green is what you're looking for.
Finally, 'SEO' combines traffic and competition to give you a score from 1-100. The higher the number, the more likely you are to be in the first page. Looking at the photo, the highest SEO is 'dragon ball z box sets,' with 98! That's an extremely favorable chance to get on page 1.
As you can see, there are lots of potential keywords just from one broad search! Let's go to Search #2!
Search #2: 'Disney'
Whoa! Can you guess the most popular Disney niche? Look at how much of the list is coloring books!
Can you see a good keyword? I can. 'printable Disney coloring pages' has high monthly searches, good traffic, a low QSR, and a SEO score of 93! This is an amazing keyword. It would work on any Disney or coloring book site.
On the other end of the spectrum, we see 'Disney stuff' with a low number of monthly searches, high QSR, a red light, and an abysmal SEO of 48. In layman's terms, this keyword is trash. I can see why. 'Stuff' is vague and general. Not the best qualities in a keyword.
Now let's try to dig in deeper! More specific. I clicked on 'Disney video' to get these results:
Now we're talkin'! There are lots of good keywords here. I see some 100s in there!
Right off the bat, we see some good choices. 'Disney channel videos' has a high Avg and a low QSR. 'cars Disney videos' is also a good pick, with a formidable 20 QSR and a 95 SEO.
Now I have keywords for a potential Dragon Ball or Disney site! I use Jaaxy all the time this way, and I don't regret it. With Jaaxy in my pocket, search engine rankings are mine!
Range of Prices! The Right Jaaxy Plan!
---
So I've spent this whole time showing and telling you about Jaaxy. You probably have a good idea of what it is by now. I hope you've decided it's worth it! And I say 'worth it' because Jaaxy isn't completely free. Don't worry, I'll explain.
Now, Jaaxy comes with multiple membership plans. I'll walk you through them, but first let's take a look at the chart below.
OK, so we have the Free Starter, the Pro, and Enterprise (not USS, just Enterprise):
-The Free Starter plan gives you 30 free searches and a sample of what Jaaxy can do. Obviously great for reluctant or beginner users.
-The Pro plan gives you everything you need to use Jaaxy. If you're just starting a website, this is a great choice. Most users have this one.
-The Enterprise plan is fittingly the best one. It's basically Pro on steroids. Everything is sped up, more results are shown, and multiple tabs can be used at once. If you're a serious user, this is the best choice.
All in all, everyone should at least try the free plan. You don't even need a credit card. It's worth giving it a whirl. After that you can decide for yourself whether the paid plans are worth it.
Keyword Kornucopia! Jaaxy Begins!
---
Yes, I know it's spelled wrong. It's a style, OK? Mortal Kombat and Donkey Kong taught me well.
I'm not gonna make Jaaxy look like some sorta miracle machine. I still hate keywords, and not even Jaaxy rids me of them completely. However, it does the next best thing: it makes the process of finding keywords painless. I don't really have to overexert myself anymore.
If you're serious about keywords-and let's face it, you should be- I highly recommend Jaaxy. At least check out the free trial.
What are your thoughts on Jaaxy? Have you tried it? How was your experience with it? If you joined from here, tell me how you like it so far!
Your komrade in keywords,
-Makki
Save
Save
Save
Save
Save
Save
Save
Save
Save
Save
Save
Save
Save
Save
Save
Save
Save
Save
Save
Save
Save
Save
Save
The following two tabs change content below.