As a self-proclaimed internet entrepreneur extraordinaire (excuse the hyperbole), I believe that owning a blog is the best way to make a living online. I always say that if you're serious about making money online, you need a website.
Well, today I'm breaking character and telling you that that's not necessarily true.
Yes, you don't always need a website to make money. There, I said it.
Actually, there are lots of ways to do it. They might not be as good as blogging, but they work. So let me show 6 easy ways to make money online without a website.
Surveys
Alright, let me start with the obvious. We've all seen the hype. Surveys can make you money, and easily too. I mean, you just answer questions about yourself.
You can earn a few dollars, or maybe even a gift card or two, so surveys were making this list no matter what.
There are tons of survey sites online, like Opinion Outpost and SwagBucks. Millions of people use them too. And hey, why not? Who wouldn't want to spend a day filling out surveys?
If you're new to the world on online income, you may think surveys are a dream come true. But let me tell you, they're really not. As a matter of fact, I don't think they're worth it at all.
Truth is, nearly everyone starts out doing surveys, only to move on. They're just too slow and unreliable to make a difference. At most you can make like $3 per survey, and an opportunity like that comes along once in a blue moon.
But the worst part is the time you spend. You can easily burn hours on surveys, for only a few bucks, if you even finished them at all.
Still, surveys are legit ways to make a buck or two, so feel free to try them out. Don't expect more than about $10 a month, though!
Selling Photos/Art on Shutterstock
Do you love taking photos? Many of us probably do. We are in the Instagram/Snapchat era, after all.
This is a pretty uncommon shtick, but it works! You simply sign up to Shutterstock, and post your photos. Then, whenever someone uses the photo, you get a share of the revenue.
You can see how useful this is to photographers who want more eyes on their work. I've met quite a few amateurs who would love this idea.
If you've browsed SS before, you'd know that lots of photos really aren't that impressive. Shutterstock, right? So if you have at least some skill…
You can also submit paintings and other artwork, if you're into that.
Now, this isn't that reliable. Come on, does anyone actually buy photos from Shutterstock? I never met anyone who's done so. Plus, there's a ton of photographers on the site already, so competition is high.
But that doesn't mean it's unheard of. There's definitely a chance to make some money with this. If you have a knack for pictures, why not submit some?
Designing T-Shirts (And Other Stuff)
Are you a fan of Marvel, Dragon Ball, or Nintendo? Or maybe DC?… Spongebob? These are just some franchises that have a huge community of fanmade merchandise, most notably t-shirts.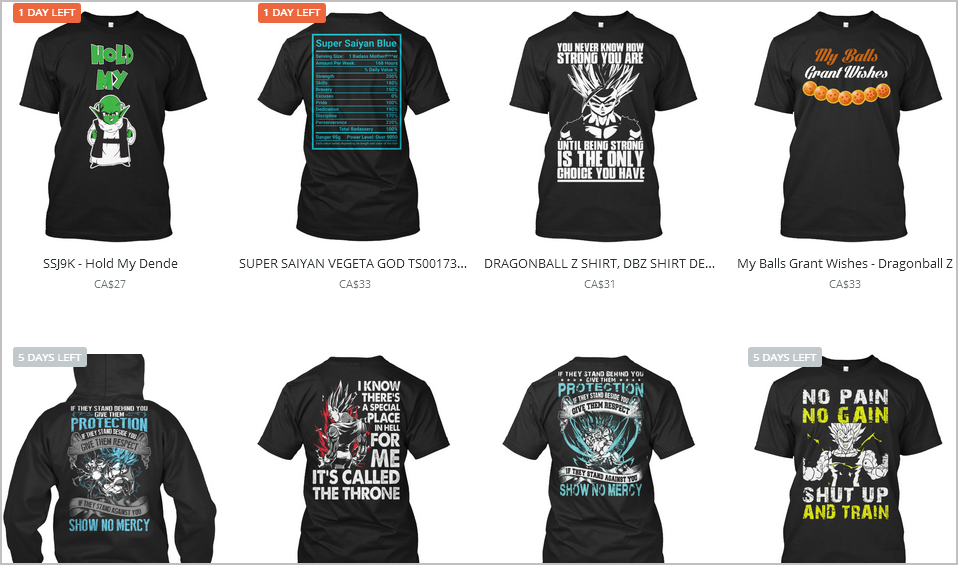 If you have a design in mind, you can actually sign up with a company like Teespring and slap it on a shirt. Then, the company puts it on sale. When someone buys the shirt, you earn a percentage.
That's it! You don't need to worry about shipping, manufacturing, or any of that! And most importantly, no website needed!
Keep in mind that t-shirts are only one example. You can design phone cases, mugs, and much more.
Teespring is the most popular marketplace, but Zazzle and Redbubble are great alternatives. Between the three, you can design pretty much anything.
The most successful t-shirt sellers make a living doing this. If you're creative, this can be a really easy way to make some money. If you have a following on social media, it's even easier.
Posting Links
On marketplaces like ClickBank and JVZoo, there's program after program promising big bucks just for posting links online. The misinformation is real, to the point that rookies consider it legit.
Some sales pages even say you can earn $10 per link!
Now, I will admit you can get paid for posting links around the internet. But the pay is nowhere near what the scams spew.
First, you'd be lucky to earn a nickel for a link. Pay is horrible and you'd be competing with people from India and China and the like, who're willing to be paid less.
Next, there's the fact that backlinks are no longer as useful as they once were. Google has made it so that link building kills your ranking. The companies paying people to post links are either stupid or ignorant to do so.
Even ignoring everything I just mentioned, link-posting still makes you a spammer. You post scammy links on social media, comment sections, and more. No one likes that. You really wanna be a Facebook "movie link" guy?
Don't even try this. It puts surveys to shame in the 'waste of time' department. I pretty much put this on the list to warn you to keep away from it. Consider me your guardian blogger.
….sorry for any cringe that might have caused.
Amazon Mechanical Turk
We all know how to make money on Amazon. You can be an affiliate and promote their products, or sell directly on the site. Those aren't exactly 'easy' ways, though.
But there is another way to work on Amazon, you know. Mechanical Turk is a program that lets you perform tasks that computers can't do.
You know, like describing the color of clothes, or transcribe a video/image. A.I isn't perfect!
You might have guessed that these tasks pay very little. Still, I consider this to be better than the surveys. Some jobs pay more than $50. You would have to be a 'Turk' for quite a while to get to that level, though.
Freelancing
I consider this to be the best 'easy' way, since you just do what you're good at.
Graphic design? Writing? Translating? As a freelancer, you sell your skills. On the internet, this is very easy. You can thank marketplaces like Fiverr and Upwork for that.
Specifically, I find that Fiverr offers a good starting point. You're pretty much guaranteed to find someone who wants a job. Plus, $5 is the standard, so you won't have to start at zero (believe me, this is possible).
Freelancing isn't perfect, however. When you start out, it could be a challenge to really break out. But it's not really that hard to get started, and once you have experience, you can charge more.
Of all the methods on this list, freelancing is the most lucrative. Many people make a living doing it. It's active income, but it sure beats a 9-5!
An 'Easy' Conclusion
There you have it. Six easy ways to make money online without a website.
While some of these can provide you with good money and maybe a decent income, I still recommend starting a website. It's basically necessary for any online business.
I know that websites are, like, the #1 fear of beginners, but I can tell you firsthand: it's way easier than you think. I even show you how to start one here. It's shockingly easy!
Having said that, some of these are worth a try if you're up to it. Just stay away from those links, alright?
What do you think of the list? Do you have any easy ways of your own that you'd like to add? I hope so! If you have any questions, leave a comment below!
And if you liked the article, please share it on social media!

Your ally in easiness,
-Makki
Save
Save
Save
Save
The following two tabs change content below.