Every blogger knows just how fickle Google can be about content, links, page speed… and just about anything, really. Sometimes it seems that sneezing on your keyboard will ruin your SEO.
Since a lot of those bloggers are also affiliate marketers, it's only natural that they use affiliate links. Which leads us into the subject of the post: do affiliate links hurt SEO?
Like everything Google, there's a huge difference of opinion. Some say that affiliate links are rank-killers. Others freely drop them in their posts. So which side is right?
The short answer is… the link users. Affiliate links on their own don't hurt SEO. But there's a lot more to it than that, you see. At least a few hundred words worth.
I have to rank too, you know!
Google and Affiliate Links
---
Contrary to popular belief, Google doesn't look down on affiliate links themselves. What it does look down on, though, is low-quality content.
Hear me out.
Back in 2011, Google rolled out its Panda update, which really did a number on so-called "thin" sites. You know, the sites with tons of ads, almost no quality content, and you guessed it, heaps of affiliate links.
The Panda update made it so that quality content is closer to the top of the search results. That said, it's obvious why sites filled to the brim with affiliate links (and not much else) are killed off so efficiently. It's not the use of the links themselves.
Here's what Google engineer Matt Cutts had to say about affiliate links in an interview at SMX. It's a little dated, but it's straight from the horse's mouth:
As you can see (er, hear), they're fine with affiliate links.
Still, it is pretty old, and Google changes very often. So here's an excerpt from a Google Hangout with another Google engineer, John Mueller, in July 2015 (via thesempost.com):
 …if you have affiliate links on a website, that is great, that is not going to be something we would count against a website.
It's clear that using affiliate links themselves isn't gonna hurt your rankings. Of course, the links can still hurt you if you misuse them.
How Not to Use Affiliate Links…
---
By now we know that it's not the links that cause trouble, but the site that overuses them.
Many beginner bloggers love the idea of monetizing their site, and so they quickly lay out the banner ads, the sidebar… ads, and the affiliate links.
They do this even before they have much traffic to speak of, if they have any at all (you'd be surprised).
Let's go back to that interview again. Yeah, when it comes to sources, I'm as diverse as corporate America.
…it's not something where we per se say that an affiliate sites are bad, we just see a lot of bad affiliate sites because they are people who try to find the fast way to publish content on their web, which sometimes being fast is good is also good, but you really also need to make sure you have a really great website where people want to go to your website to get the information that they can't find anything else.
Mueller is basically saying that the people who rush their site development and post links are the 'bad' affiliates.
It's what I said before the quote. You can't just write a few short, hundred word posts and call it a day, then begin to monetize your site.
I've seen many months-old websites where advertising is everywhere: on the header, in the sidebar, between paragraphs (something I refuse to ever consider)… but the content is thin. Sometimes barely existent in the first place.
Then the owners had the nerve to complain that their "hard work" had been useless!
When you care more about making money than providing value, you won't make money at all.
So what should you do to avoid this? Don't add tons of affiliate links on every post and page, and create quality content! This applies even more to newer websites, which really should be focused on growing rather than monetization.
… And How to Use Affiliate Links
---
Some people would say that it's better to hold off on even posting affiliate links in the first place, and that you should wait till traffic starts coming in.
I won't say this is a bad idea. Actually, it's a great idea if you wanna be safe.
But if you're careful, you can use affiliate links from the start. The key is to… well, there's several keys.
Restrain Yourself
Affiliate links shouldn't be taken lightly. You should only put a couple of links on each post (if the post calls for it).
A good rule I like to follow when I need to use links in a post is to use one at the beginning and one at the end. Never more, sometimes less.
However, I make sure not to include them in every post. Like this one, for example. If every post you write is a sales page, you're doing it wrong.
Create a Funnel Leading to a "Main" Product
This is something I learned in the training in my #1 Super Program.
Basically, you base most of your promotion around one product. Take a laptop review site for instance.
You could review 50 laptops and include 50 affiliate links across them all…
Or you could use an affiliate link in one of them, and link all the other reviews to it. It would have to be a better product, and a well-made page, but it's a hugely effective strategy.
The shoestring-budgeted graphical aid explains it perfectly: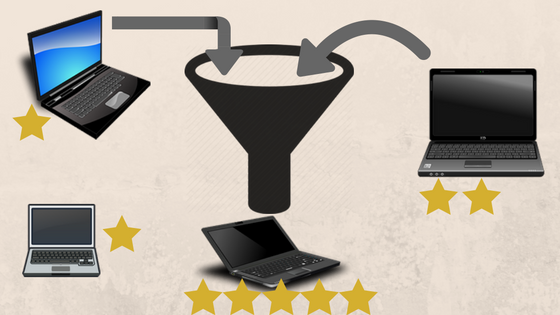 This way, you direct traffic into one area. It means you don't overuse affiliate links, and you'll have a better chance to convert your leads.
As your site authority and traffic increases, you'll be able to add more and more affiliate links.
Provide Value
The best thing you could do to balance out your links is to simply make your site worthy, like Thor is worthy of Mjolnir.
As I said before, content is probably the most important factor that Google uses in its rankings.
If you only care about quick money, it'll show in your content and the overall look of your site. But if you care about helping people, your content will be a lot more valuable.
Don't make your whole website a sales page.
Do Conclusions Hurt SEO?
---
That's just a witty headline. This is actually the conclusion.
Affiliate links have their uses. It's how an affiliate marketer makes money, after all. But lot of people miss how important providing value is in affiliate marketing, and try to make a quick buck. You don't need me to tell you not to do that, right?
Don't be paranoid and avoid the affiliate links entirely. You need to convert, after all.
But on the other hand, be sure to make your site worthy of its rankings. You really have no choice. Either you make it valuable, or your rampant over-advertising kills your site.
No pressure!
What's your affiliate link philosophy? Do you use 'em generously? Or are you the cautious type? Leave your thoughts below!
And if you liked the article, please share it on social media!
Your amigo in affiliates,
-Makki
Save
Save
Save
Save
Save
Save
The following two tabs change content below.