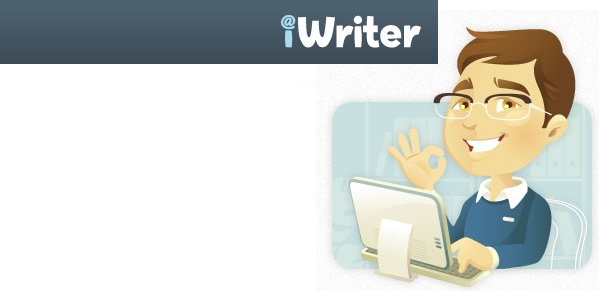 Hello readers! Welcome to another edition of 'Profitable Platforms!' You can see previous posts in this category at this link. Let's get started!
If you couldn't tell by the fact I that I run a website such as this, I'm really into writing. It's one of my many passions, you know. With this in mind, I was excited to come across a freelance writing site where I could easily get paid to write! Naturally, I made good use of it, and I'll show you how to do the same. So, just what is iWriter?
What is iWriter?
---
There's an oft-repeated saying when it comes to internet business, and that would be "content is king." And that would be undeniably true.
Content is the one thing you absolutely need to really make it online, so of course there's gonna be a marketplace for ordering some.
Are you familiar with content mills (also called farms)? They're online mass-producers of blogs, articles, and other text content, provided from their huge army of freelance writers. These are hugely important resources, as the need for content is always present.
To put it simply, webmasters needing content like articles, blog posts, and eBooks post a listing for a writer to accept and, well, write. iWriter is one of these content mills.
As you might expect, content mills are great ways for writers to make some quick cash, and possibly form a sort of secondary (or tertiary, or any other -ary) source of income. Some writers make it a full-time job!
In truth, content mills are often very similar, but iWriter is a unique platform, and I mean that in both a negative and positive sense. I'll elaborate soon enough.
For now, we'll take a look at how iWriter works, and how you can get paid to write content!
How to Use iWriter!
---
All right! Let's do this!
Once you sign up and enter iWriter (you can do that here), you'll have to take a short grammar quiz. This shouldn't be too hard if you're well versed in English.
Then you'll be taken to the Dashboard. Here's where you'll see your rank, balance, and other features:
You'll notice I have a few bucks in there already. I wrote 5 articles to earn that, if you care to know. But more importantly, you'll see my rating and rank.
I have 4.5 stars and a "Standard" rank. Higher ranks are "Premium," "Elite," and "Elite Plus." I'll go into more detail later on. For now, we're gonna go into "Write Content" at the top there.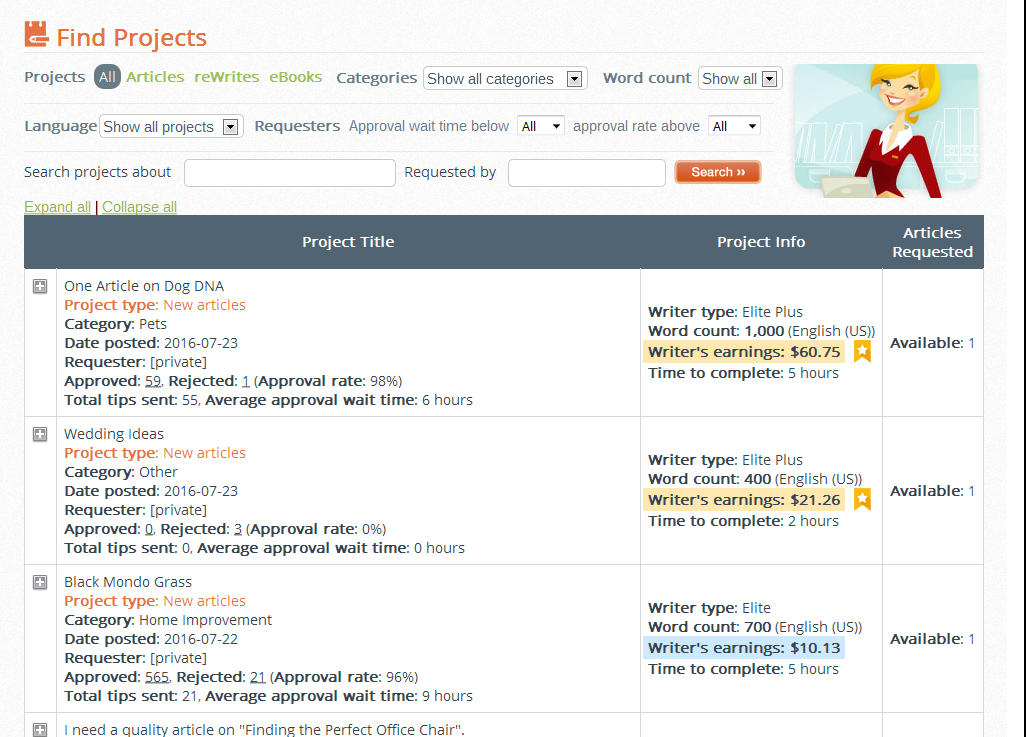 Here are the listings. Pretty nice earnings, huh? You could make some decent bucks with this!
It's not all earnings, though. There are many points of interest here. The first is the time to complete. When you accept an article, you have to finish it within the allotted time, or you lose it.
There's also the approval rating. You can see the first listing here comes from a guy with 98% approval. So if you follow his guidelines, you're pretty likely to get approved.
The next is the word count. See, word count is what determines your pay. That's why the 400 word wedding article pays less than the 1000 word dog one.
But Makki, why does the third listing pay less than the second?
Sadly, that picture isn't the full story. See the 'writer type' up there? Only Elite and Elite Plus writers can take these articles. Since Elite Plus is more prestigious, each word counts for more.
Let's scroll to the bottom, where we'll find projects we can pursue right off the bat!
I know, it's not the best pricing ever. The Premium and Standard rates are pretty bad. And you'll notice the approval rating here is even worse.
It's understandable. If you're paying for less, you're getting less quality, regardless of the ability of the writer. But with Standard articles, anyone can write them immediately after signing up. It makes up somewhat for the lousy pay.
Speaking of pay…
Getting Paid in iWriter
---
If you're using iWriter, you're gonna want to get paid. Otherwise, you'll be working for nothing. And that wouldn't be productive. I've probably extended this intro as long as I can.
Now, you remember the ranks I mentioned above. Those ranks determine how much you get paid. As you write more and more, your rank increases. Here's standard:
Yeah, I'll say it again, it's not very much. Compared to other content mills or freelance marketplaces, $6 for 1000 words is terrible. Luckily the 'standard' (heh, heh) is pretty low. You don't have to be an experienced writer to have some success here.
Premium is achieved after getting 25 ratings in your account, and having a rating of 4.5 stars. You'll notice this pays a bit better. Well, of course it does. It's a better ranking! And if you write a few articles a day, you'll make it quickly.
Elite is where it gets serious. You can tell by the guy's suit. He means business.
Elite is a much bigger increase from the last rank than Premium was. An Elite writer can make some decent money on the side.

Elite Plus is the highest paying rank there is. iWriter doesn't have a snazzy chart for this rank like the other 3 do, but you can see it pays really high (the photo in the last section also shows Elite Plus listings). Why, it would take 6,000 Standard words to equal the pay for 700 Elite Plus words!
It's imperative to note that these are only minimum payments. A requester can also tip you, if you're lucky. I've been tipped a dollar before, but they can be much higher.
As for the actual payment, iWriter offers a variety of payment times, like weekly, biweekly, or monthly. They're better than other content mills in this regard.
You also need to have a minimum of $20 in your balance to withdraw the money. I'm an impatient, instant gratification millennial, so this is a negative for me. Still, it's objectively a positive.
Incremental Income!! Is iWriter Worth It?
---
Make no mistake, using iWriter can earn you money.
Just how much money is a different matter entirely. It all depends on the amount of time you spend on the website, and the effort you put in.
Are you prepared to write for practically nothing until you get to higher ranks? Because that's the reality of iWriter. The pay is only outstanding at the Elite ranks. Take a gander at this calculation, which shows how much an Elite writer would get if he wrote three 500-word articles a day (~$8 each).
That's a decent source of income, right? Perfectly manageable too. 1,500 words is pretty small for an accomplished writer.
Let's crank it up, and write 10 500-word articles a day!
Jiminy Crickets! $29,000 a year! That's a decent living for most people! No doubt, iWriter can be a valuable source of income at these rates!
Of course, you'd have to be pretty quick to write that much in a day. It's not very realistic of a goal.
So let's try 100 500-word articles a day!
Stupendous! Colossal! Magnificent! Totally not gonna happen!
That calculator has no limit. There's a moral in there somewhere…
Besides the money, there's also the training aspect. You will surely get better at writing using iWriter.
Exaggeration aside, iWriter is definitely worth it. You just gotta watch out…
 iWriter Downsides and Precautions
---
On iWriter, there are some things you gotta watch out for, and some things that just stink.
Always make sure a requester has a high approval rating. You do not wanna write an article only to get rejected by some jerk who expects a high level of quality for $1.23. I've seen approval rates of 15% or less. You get what you pay for, requesters!
You should read the 'Special Instructions' an article comes with. These are often…um, instructions that define what the requester wants. It's really important to read the instructions, because you will get rejected if you don't follow the guidelines.
A really bad aspect of iWriter is the lack of jobs available for standard writers. If you wanna get to Premium, you have to take every job you can. Sadly, you're gonna have to work for almost nothing for a while, since Standard jobs are taken so fast.
Profitable Penmanship- The Potential of iWriter
---
Is iWriter a good place to make some money? In my view, it sure is. But I only made $20 after a few jobs. I'm not focusing my full attention on it, and you probably won't either.
To be honest, the real value of iWriter is in the experience it provides, at least in my opinion. Having to finish an article in a set amount of time speeds up your writing considerably.
In truth, iWriter offers a "Fast Track" program that elevates you to Premium or Elite right away, but it costs $150. I'd recommend trying Standard out first, to see if you can be committed enough.
All in all, at higher ranks iWriter is definitely a "Profitable Platform." The rates can get pretty good. But unfortunately, the beginner rates are just horrible. There's always the "Fast Track" option, but it seems exploitative, to be frank.

Unfortunately, the mass-productive nature of content mills has only increased the expectations of requesters while decreasing the earnings of writers.  They brag that they only cost $1.25, but that's a horrible deal. The writers are paid peanuts (in the lower ranks) and the requesters expect way more than they're paying for.
Still, you might like iWriter, especially if you get fast tracked. Sign up here to try it out. Fortunately, you can start writing immediately after doing so. I highly recommend you check multiple times throughout the day if you choose to remain Standard, as listings can go fast!
You can also sign up and order articles instead. Remember though, you get what you pay for, so be reasonable!
While iWriter can be a great source of online income, there are indeed much better opportunities out there, especially involving writing. If you wanna know how to make big bucks by writing for yourself, join me in here (you'll have a blast inside that link!).
What do you think of iWriter? Did you sign up? How were the projects you took on? Was the money good? Got any questions? I'd appreciate some answers in the comment section below!
Your spiritual sibling in scripting,
-Makki
Save
Save
Save
Save
Save
Save
Save
Save
Save
Save
Save
The following two tabs change content below.